Ambassador Rosario Manalo to Lecture on ASEAN-Philippines Relations | 22 June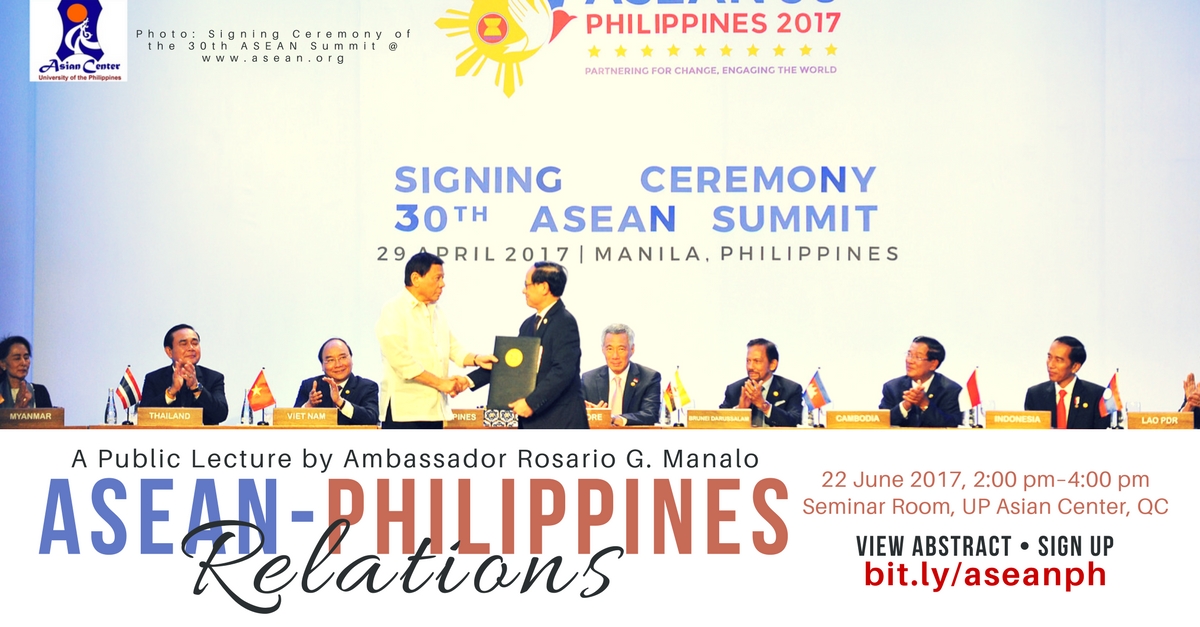 The UP Asian Center will be hosting a public lecture by Ambassador Rosario G. Manalo on ASEAN-Philippine Relations on 22 June 2017, 2 pm to 4 pm, Seminar Room, UP Asian Center, Quezon City. The lecture is free and open to the public, but seating is first-come, first-served. Participants are encouraged to sign up. 
ABOUT THE LECTURE 
As one of the Philippines' most prominent diplomats, Ambassador Rosario G. Manalo will share her insights on ASEAN and Philippine relations, highlighting lessons, challenges, and opportunities. "Her timely lecture allows us to reflect on ASEAN-Philippines dynamics, " shares Janus Nolasco, Information Officer of the UP Asian Center, "especially since this year's the 50th anniversary of ASEAN and because the Philippines holds the ASEAN chairmanship. What has happened over the last 50 years, and what can we expect in the near future? I look forward to her sharing her expertise and experience."    
ABOUT THE SPEAKER
Ambassador Rosario G. Manalo is a renowned diplomat of the Philippines having served the country for over 43 years in different capacities. At 24 years of age, Ambassador Manalo became the first Filipina to pass the competitive Foreign Service Exam. Between 1979 and 1997, she served as the Philippine Ambassador to many European cities and international institutions, including but not limited to Brussels, Luxembourg, Paris, Lisbon, Stockholm, the European Economic Community, and UNESCO.  From 1997 to 2003, she was the Deputy Minister of Philippine Foreign Office. Afterwards, she became adviser to former President Fidel V. Ramos in 2006 when he served as the Philippine Eminent Person on the negotiations of the ASEAN Charter. A year later, Ambassador Manalo chaired the aforementioned negotiations. 
Her expertise and experience in international diplomacy were channeled to the academic community when became Director of European Studies Program at the Ateneo de Manila University from 2005 to 2009. She taught as a professor at the School of Diplomacy and Governance, De La Salle University, College of St. Benilde, and as a lecturer at the Asian Center, University of the Philippines, Diliman. She is currently the Dean of the Helena Benitez School of International Relations and Diplomacy and the Director of the Center for Gender Equality and People Empowerment—both institutions of the Philippine Women's University—and is the incumbent Philippine expert in CEDAW in Geneva until 2020. 
ABOUT THE ASEAN AMBASSADOR LECTURE SERIES
The event is the second lecture in the ASEAN Ambassador Lecture Series of the UP Asian Center, which was launched last March 2017 with an inaugural lecture featuring Indonesia. The ASEAN Ambassador Lecture Series will run from March 2017 to November 2017. Ambassadors in Manila of various ASEAN member states (or their representatives) will be invited to deliver a public lecture where they will speak about their respective countries' role and relations in and with ASEAN. The lecture series aims to help build public awareness of ASEAN within the Philippines, especially in light of the Philippines' chairmanship of the organization and its 50th anniversary in 2017.
VENUE And VICINITY MAP
Vehicles entering the UP Asian Center (GT-Toyota Asian Cultural Center) grounds can only do so via the gate on Magsaysay Avenue that is near a UP guardhouse, a few meters away from Katipunan Avenue, and across Maynilad. A small gate for pedestrians on Guerrero St. lies across the College of Law parking lot and a few meters away from a waiting shed, where the Ikot jeepney, and jeepneys from Philcoa and SM North pass by. VIEW VICINITY MAP and GOOGLE STREET VIEW
INQUIRIES And ATTENDANCE
If you are planning to come with/as a big group (a class or delegation), please inform us the number of participants at  This email address is being protected from spambots. You need JavaScript enabled to view it. . It would also be best if their names could be registered online or if you could send us a list of their names.
---
The UP Asian Center offers M.A. degrees in Asian Studies with four fields of specialization: Northeast Asia, Southeast Asia, South Asia, and West Asia. The Center also has an M.A. program in Philippine Studies that allows students to major in Philippine society and culture, Philippine foreign relations, or Philippine development studies. The Center offers a Ph.D. program in Philippine Studies in conjunction with the College of Arts and Letters and the College of Social Sciences and Philosophy. Get an overview of these programs. The Asian Center also houses a peer-reviewed, open-access journal, Asian Studies: Journal of Critical Perspectives on Asia. It has published several books and monographs, and hosts or organizes various lectures and conferences.