Asian Center Student, UP Faculty Chart Manila Electric Streetcar Accidents in GIS-History Conference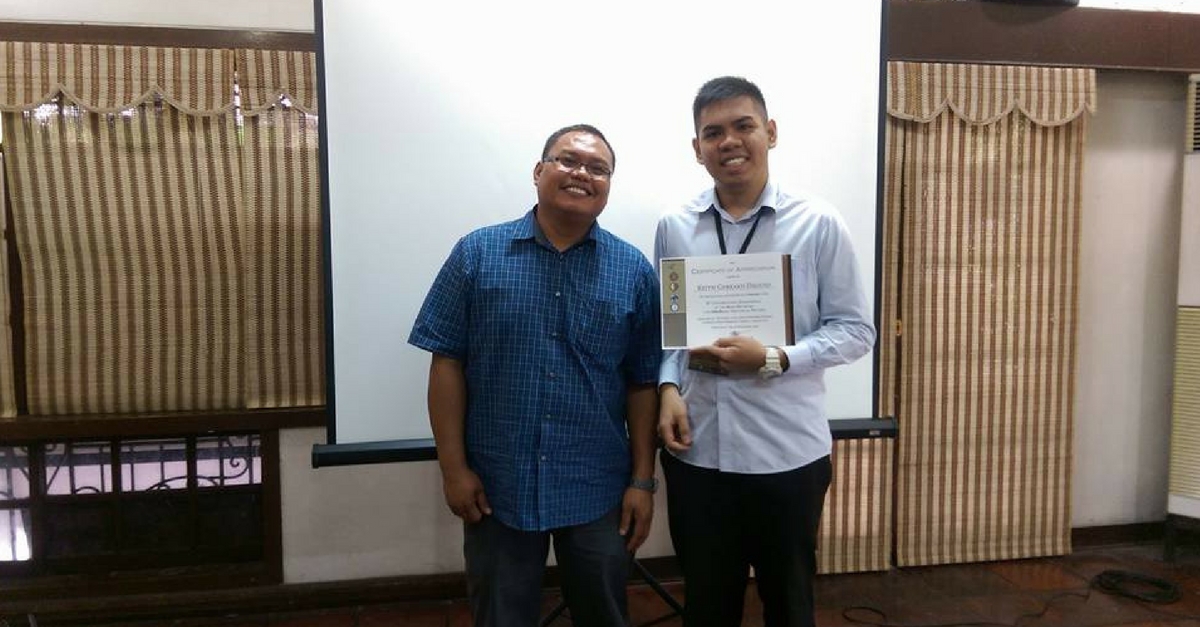 Keith Daguio (R) and Marco Lagman pose for a photo after their presentation. Photo provided by Keith Daguio.
---
A student of the UP Asian Center and a faculty member of the Department of Geography, UP Diliman presented a paper "Accidents Speak Louder than Words": Cartographic Renderings of Manila Electric Streetcar Accidents at an international conference, Asian Network of G.I.S.-based Historical Studies (ANGIS) 2016, which was held from 1 to 3 December 2016 at the Balay Kalinaw, University of the Philippines Diliman.
Keith Daguio is majoring in Philippines Studies at the UP Asian Center, while Marco Lagman teaches at the Department of Geography, UP Diliman as Assistant Professor.
In their paper, Mr. Daguio and Mr. Lagman argue that "rail-based transports during the late nineteenth to early twentieth centuries were considered as an indicator of modernity and progress. In the Philippines, such was the case for the Manila Electric Railroad and Light Company (MERALCO) streetcar system that connected Manila with its nearby settlements."
They add that "while there is no doubting its position as a symbol of modernity, this paper seeks to question the safeness of the MERALCO tranvia." The paper is "an initial review of Manila Times articles showing, that during the early years of tranvia operations, numerous accidents resulting to varying degrees of injury, sometimes even death, were recorded as common occurrences."
In this regard, "the researchers intend to demonstrate that, while the tranvia was advertised as the epitome of modernity, it was also a site of danger and death. Furthermore, it is hoped that this paper would encourage other researchers to help address the rather scant literature on transportation and planning history in the Philippines from a more interdisciplinary approach."
The study is part of an Emerging Interdisciplinary Research Grant (EIDR) by the Office of the Vice President for Academic Affairs. The project is entitled "The Mass Transit System in Metro Manila: From Tranvia to MRT, 1879-2014," and is a collaborative undertaking between the Third World Studies Center, Department of Geography, and National Center for Transportation Studies,UP Diliman. The paper presented is part of the text history dealing with the history of mass transit from 1879 until 1945.
ANGIS 2016 was organized in cooperation with The Project on GIS-based Global History from Asian Perspectives, the University of the Philippines-Department of Geography and the Philippine Geographical Society, Inc. 
---
The UP Asian Center offers M.A. programs in Asian Studies with four fields of specialization: Northeast Asia, Southeast Asia, South Asia, and West Asia. The Center also has an M.A. program in Philippine Studies that allows students to major in Philippine society and culture, Philippine foreign relations, or Philippine development studies. The Center offers a Ph.D. program in Philippine Studies in conjunction with the College of Arts and Letters and the College of Social Sciences and Philosophy. Get an overview of these programs. The Asian Center also houses a peer-reviewed, open-access journal, Asian Studies: Journal of Critical Perspectives on Asia. It has published several books and monographs, and hosts or organizes various lectures and conferences.