Join an Asia-Based Academic Network for SEA Studies: Institutional Membership in SEASIA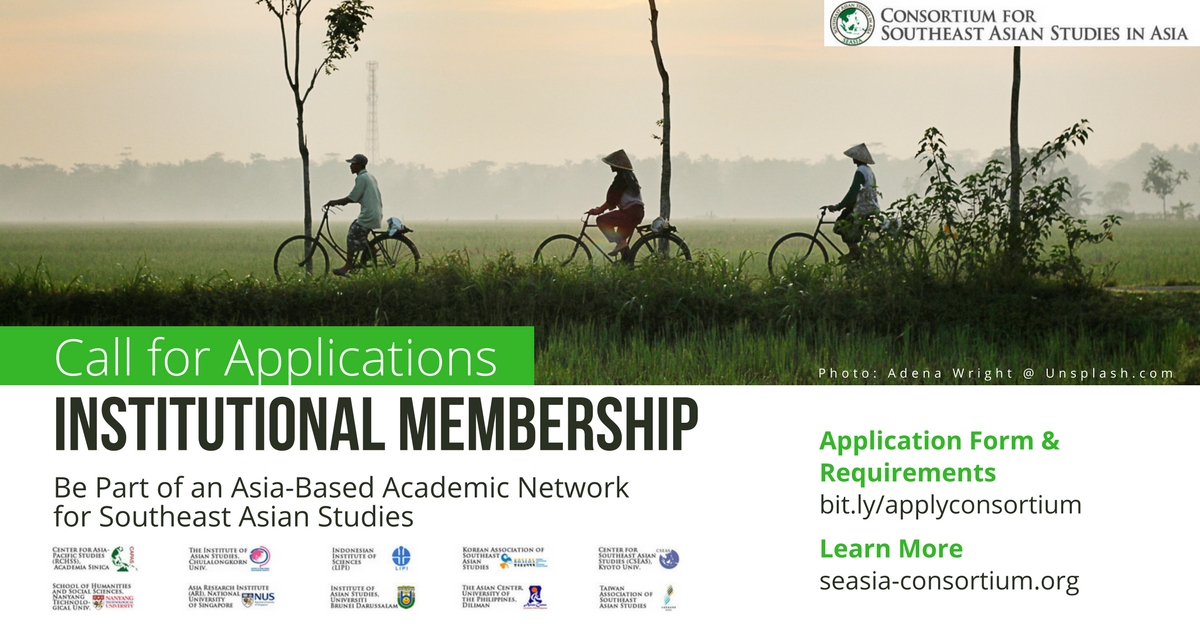 The Consortium of Southeast Asian Studies in Asia (SEASIA) is a non-profit, regional initiative established in 2013. Its aim is to promote Southeast Asian studies by linking the leading area studies institutions in providing a multilateral forum for academic meetings, seminars, workshops, and symposia. SEASIA comprises of 10 member institutes based in Asian region. The Secretariat of SEASIA is currently located in Kyoto University Center for Southeast Asian Studies.
With a view to expanding its scholarly network, SEASIA is inviting applications for membership from institutions based in the Asian region. Those interested may apply by sending a completed application form, the various supporting documentation listed therein, and a cover letter to the SEASIA Secretariat by end of June 2017.
CURRENT MEMBERSHIP
The Center for Asia-Pacific Studies (Research Center for Humanities and Social Sciences), Academia Sinica

The Institute of Asian Studies, Chulalongkorn University

The Indonesian Institute of Sciences (LIPI)

The Korean Association of Southeast Asian Studies

The Center for Southeast Asian Studies (CSEAS), Kyoto University

School of Humanities and Social Sciences, Nanyang Technological University

Asia Research Institute (ARI), National University of Singapore

Institute of Asian Studies, Universiti Brunei Darussalam

Asian Center, University of the Philippines Diliman

Taiwan Association of Southeast Asian Studies. 
INQUIRIES
For inquiries, please email the SEASIA secretariat:  This email address is being protected from spambots. You need JavaScript enabled to view it. . To learn more about SEASIA, visit the website. 
---
The UP Asian Center offers M.A. programs in Asian Studies with four fields of specialization: Northeast Asia, Southeast Asia, South Asia, and West Asia. The Center also has an M.A. program in Philippine Studies that allows students to major in Philippine society and culture, Philippine foreign relations, or Philippine development studies. The Center offers a Ph.D. program in Philippine Studies in conjunction with the College of Arts and Letters and the College of Social Sciences and Philosophy. Get an overview of these programs. The Asian Center also houses a peer-reviewed, open-access journal, Asian Studies: Journal of Critical Perspectives on Asia. It has published several books and monographs, and hosts or organizes various lectures and conferences.