Get Your MA in Asian Studies @ UP Asian Center | Application Period: 1–27 Oct 2017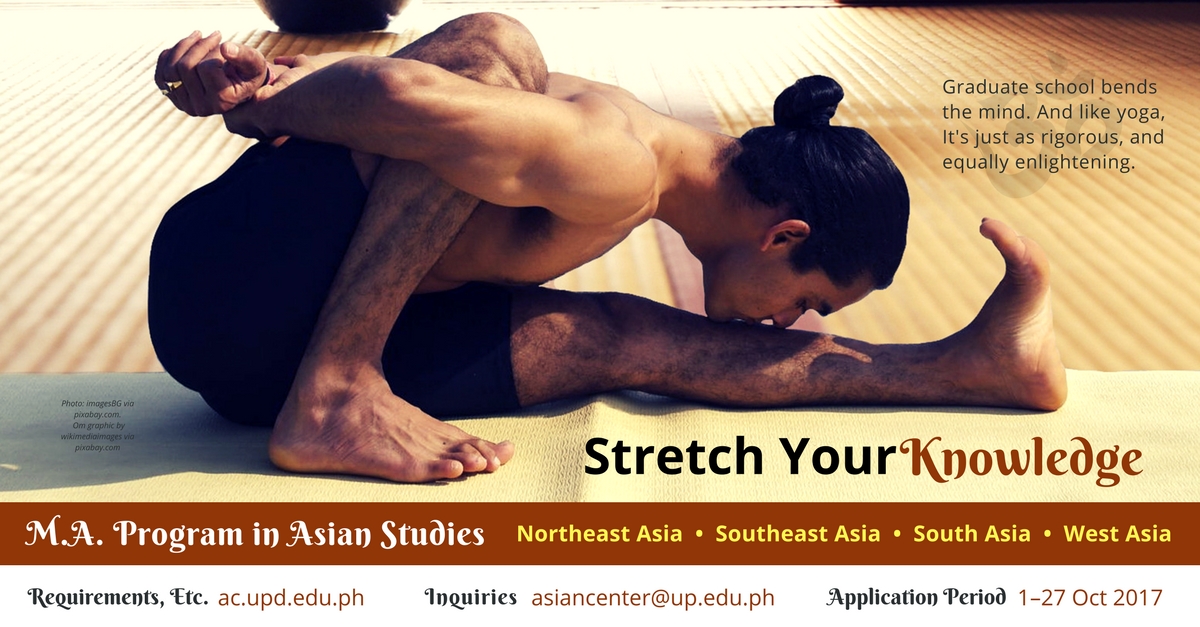 ---
The Asian Center, University of the Philippines Diliman welcomes applications to its MA programs in Asian Studies and in Philippine Studies for the second semester, Academic Year 2017–2018, which starts January 2018. Application period is from 1 October 2017 to 27 October 2017.
The MA Program in Asian Studies comes in two tracks (thesis or non-thesis) and offers four specializations on one of the following regions:
Northeast Asia (with country specialization: Japan, Korea, OR China)

Southeast Asia

South Asia, or

West Asia.
APPLY TODAY: View Requirements, etc.
The UP Asian Center also offers an MA Program in Philippine Studies which likewise has two tracks (thesis or nonthesis) and allow students to specialize in any of the following fields:
Foreign relations

Development

Society and culture.  
APPLY TODAY: View Requirements, etc.
All MA programs entail a language requirement and a comprehensive examination, and are grounded on research methodologies and theories on area studies. The programs also feature interdisciplinary coursework, as students take a required variety of social science courses -- history, politics, economy, and others -- of their chosen field or area of specialization. 
For inquiries and questions, please contact the Office of the College Secretary at This email address is being protected from spambots. You need JavaScript enabled to view it. or contact 63-2-981-8500 local 3578 and kindly look for Mr. Robert Silleza.  
---
The UP Asian Center offers M.A. programs in Asian Studies with four fields of specialization: Northeast Asia, Southeast Asia, South Asia, and West Asia. The Center also has an M.A. program in Philippine Studies that allows students to major in Philippine society and culture, Philippine foreign relations, or Philippine development studies. The Center offers a Ph.D. program in Philippine Studies in conjunction with the College of Arts and Letters and the College of Social Sciences and Philosophy. Get an overview of these programs. The Asian Center also houses a peer-reviewed, open-access journal, Asian Studies: Journal of Critical Perspectives on Asia. It has published several books and monographs, and hosts or organizes various lectures and conferences.