Professor Santamaria Discusses Igal Tariray in Traditional Music Conference in Ireland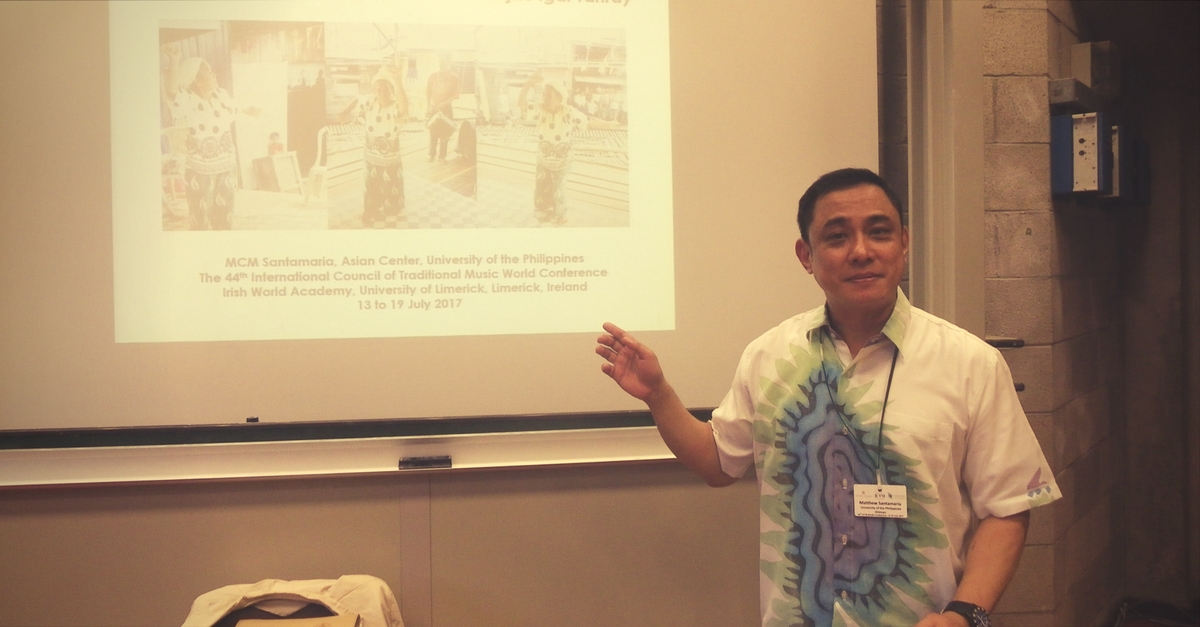 Professor MCM Santamaria during his presentation at the University of Limerick, July 2017
---
Professor MCM Santamaria of the UP Asian Center presented his study, A Percussive Dance: Exploring the Relationships of Sounding and Moving in the Sama-Bajau Igal Tariray at the 44th International Council of Traditional Music World Conference, which was held from 13 to 19 July 2017 at the University of Limerick, Ireland.
ABSTRACT
Igal tariray (aka tarirai) is a lively dance of the Sama-Bajau that originates from the Island of Sitangkai, Tawi-Tawi Province, Southern Philippines. The dance is characterized by, among others, the playing of hardwood, bamboo, or shell clappers called bola'-bola', jerking/shrugging movement of the shoulders, vigorous stamping of the feet, and sudden lifting of the leg often accentuating a syncopated end-beat of a musical phrase. This paper revisits the extremely intimate relationships between acts of "sounding" and "moving" in this highly complex dance expression. It presents the utility of notions of "drone", "ornamentation", and "accent" as modified to refer to both sound/music and movement in helping illustrate the closeness of this relationship. The first part of the paper gives a brief background about the Sama-Bajau and igal tariray gleaned from ethnographic, ethnomusicological and ethnochoreological literature. The second part o fthe paper examines three (3) samples of igal tariray gathered from performances in the field of musical and movement structures. The dynamics of sound-movement relations in these three samples are then identified, characterized, and categorized. Special attention is given to instances of drone (sound-movement patterns recognizable throughout or for most part of the piece), ornamentation (sound-movement motifs that are repeated in certain parts of the piece), and accents (sounds and movement that are executed with special stress or emphasis in certain parts of the piece). The third part of the paper examines two (2) theatrical renditions of igal tariray, paying due attention to how they diverge musically and kinetically from the samples taken from the field. By way of conclusion, the paper puts forward the idea of the "percussive dance," a performance expression where sounding and moving cannot easily be separated in terms of proper execution and aesthetic appreciation.
ABOUT THE AUTHOR
Professor MCM Santamaria has a Doctor of Law in Political Science from Kyoto University, Japan. His research interests include Performance Studies, Politics, Japan and Southeast Asia, and Sama-Bajau studies. He teaches several graduate courses at the UP Asian Center that cover Japanese Culture and Society, Philippine Artistic Expressions, Southeast Asian Culture and Society, and Theater and Society in East Asia, among others. View his faculty profile. 
Participation was made possible through travel grants from the Asian Center, UP System RDG and the NCCA Travel Grant. 
---
The UP Asian Center offers M.A. programs in Asian Studies with four fields of specialization: Northeast Asia, Southeast Asia, South Asia, and West Asia. The Center also has an M.A. program in Philippine Studies that allows students to major in Philippine society and culture, Philippine foreign relations, or Philippine development studies. The Center offers a Ph.D. program in Philippine Studies in conjunction with the College of Arts and Letters and the College of Social Sciences and Philosophy. Get an overview of these programs. The Asian Center also houses a peer-reviewed, open-access journal, Asian Studies: Journal of Critical Perspectives on Asia. It has published several books and monographs, and hosts or organizes various lectures and conferences.