UP Asian Center's 'Tabang Para sa Katawhan' concert extends relief to MSU's 'internally displaced students'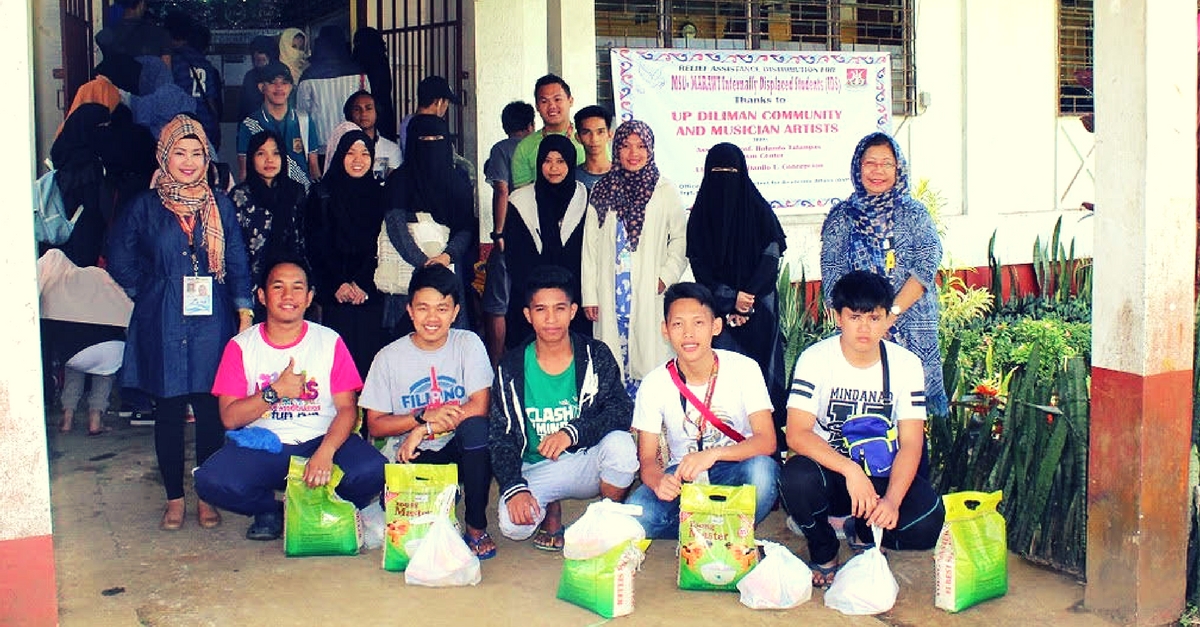 Photo sent by Prof. Alma E. Berowa
---
As an expression of fraternal support to affected students of the Mindanao State University-(MSU) Marawi City Campus, the University of the Philippines through the Asian Center (AC)-organized concert extended a modest financial contribution for the purchase of relief goods distributed recently to select beneficiaries.
MSU System Vice President for Academic Affairs Prof. Alma E. Berowa led the enlistment of deserving students who have lost all means of support due to the continuing violence in the grossly devastated Mindanao city still under martial law. Instead of buying goods in Manila, rice, canned goods, some medicines, water, and the like were sourced locally after bank transfer of the proceeds of the AC-organized benefit concert.
VP Berowa wrote in gratitude to Pres. Danilo L. Concepcion who also personally supported the concert, "We chose as your beneficiaries the internally displaced students  (IDS) who decided to come back to MSU to continue with their college studies, despite the war. 'Nagbalik eskwela' sila with nothing, except their hopes and dreams. So your contribution went a long way as we welcome them back to campus."
AC was able to stage the four-hour long "Tabang para sa Katawhan" (Help for the People) on 21 June at the GT-Toyota Asian Center Auditorium. Well-known musicians like Noel Cabangon, Chikoy Pura,  Ferdie Jarin, Prof. MCM Santamaria, May-I Padilla and and the UP College of Music's Guitar Society and and Edru Abraham's Kontra Gapi. Darwin Absari and Kamaruddin Bin Alawai of the UP Institute of Islamic Studies graced the occasion with a couple of Tausug songs. In grateful participation, the Mindanao State University BS-International Relations Batch Nexus Dancers performed traditional dances in full costume and musical accompaniment. 
Faculty members, AC students and staff and their friends also braved the late afternoon heavy downpour and floods that stalled traffic on that concert day.  Even the light and sound system provider gave substantial discount as his own contribution.
"Your act of voluntary contributions sent our way certainly gives us hope that out there are many good people among the Filipinos who believe that we are Muslims but we are not terrorists. That gives us the courage to go on against all odds," VP Berowa said in ending her letter to Pres. Concepcion and the AC principal organizer of "Tabang". (TGr/AC/20170926) 
---
The UP Asian Center offers M.A. degrees in Asian Studies with four fields of specialization: Northeast Asia, Southeast Asia, South Asia, and West Asia. The Center also has an M.A. program in Philippine Studies that allows students to major in Philippine society and culture, Philippine foreign relations, or Philippine development studies. The Center offers a Ph.D. program in Philippine Studies in conjunction with the College of Arts and Letters and the College of Social Sciences and Philosophy. Get an overview of these programs. The Asian Center also houses a peer-reviewed, open-access journal, Asian Studies: Journal of Critical Perspectives on Asia. It has published several books and monographs, and hosts or organizes various lectures and conferences.