UP Asian Center Students, Lecturers, Alumni to Take Part in Chinese Studies Conference @ Ortigas Center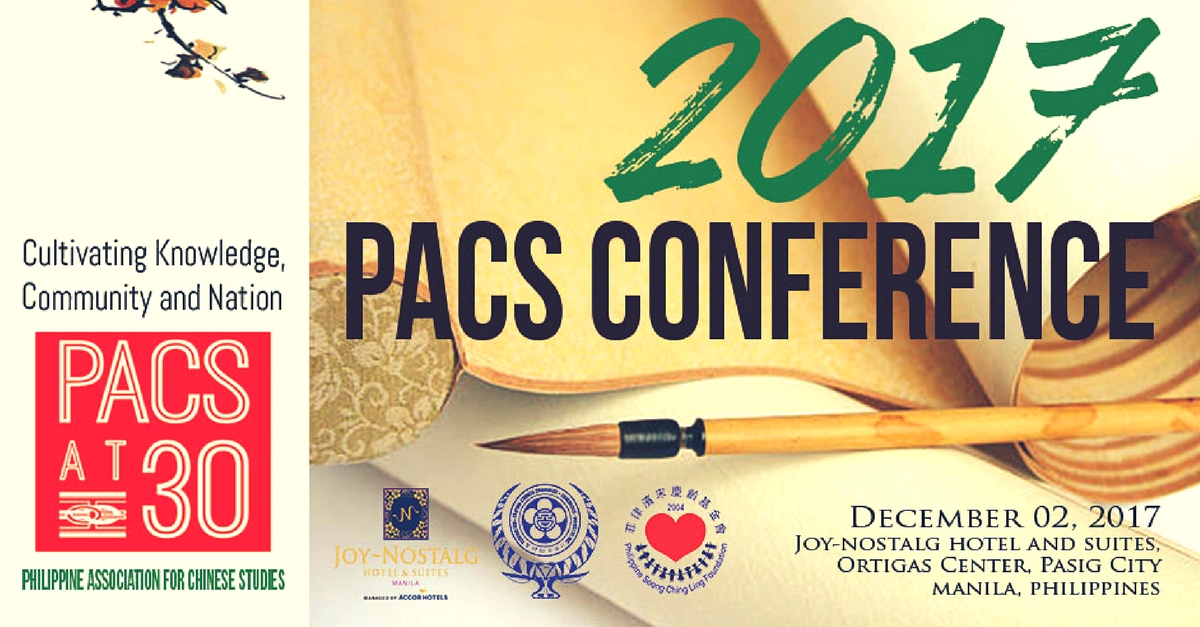 UP Asian Center students, lecturers, and alumni will be participating as panelists in the Philippine Association for Chinese Studies' (PACS) 2017 Conference on 2 December 2017 at the Joy-Nostalg Hotel and Suites, Ortigas Center, Pasig City. Registration and conference fee details are available on the PACS website. Registration fee of PhP 1,500 applies to non-members of PACS; PhP 1000 for members; and PhP 300 for students
Below are the papers to be presented by UP Asian Center alumni, students, and lecturers. Please note that there are other papers in the said panels. 
PANEL 2: CHINA'S ECONOMIC AND POLITICAL POWER (9:50 AM–11:10 AM)
China's Rise and Economic Miracle: Strategies and Opportunities for the Philippines

by Dr. Jed Rabena, Lecturer, UP Asian Center



The Carrot on the Stick: China's 21st Century Maritime Silk Road, an Initiative or a Strategy

by Kiveli Paneda, Student, Master of Arts in Asian Studies (China), UP Asian Center 
PANEL 3: CONNECTIVITY AND COOPERATION THROUGH THE BELT AND ROAD(11:10 AM–12:30 PM)
The Maritime Silk Route: What's in it for the Philippines?

By Dorcas Ramos-Caraig, Alumna, Master in Asian Studies, UP Asian Center



Investments and Infrastructure with Chinese Characters

by Harold Diokno, Student, MA in Asian Studies (China Major)
PANEL 5: THEORY, NARRATIVES, AND FOREIGN POLICY (11:10 PM–12:30 PM)
China Interpreting its Actions in the World: Emergence of an International Relations Theory with Chinese Characteristics?

by Paulo Villar, Alumnus, Master in Asian Studies (China Major), UP Asian Center



Scrutinizing the Role of Humiliation Narratives: An Alternative Take on China's State Behavior on the South China Sea Disputes

by Tricia Villa, former editorial assistant, Asian Studies, UP Asian Center
PANEL 8: LINKING THE PAST TO THE PRESENT: RE-EXAMINING THE CHINESE-FILIPINO COMMUNITY IN THE PHILIPPINES
The Ethnic Chinese in Mindanao by Aurora Roxas-Lim

, Former Dean, UP Asian Center
PANEL 10: CONTEXTUAL EMBEDDEDNESS: THE SOCIAL CONSTRUCTION OF CHINA KNOWLEDGE IN THE PHILIPPINES (3:30 PM–4:50 PM)
From Taboo Thinkers to Thought Leaders: Media, Chinese Politics and Diplomacy

by JM Lanuza, Alumnus, Master in Philippine Studies (Development Studies Major), UP Asian Center



Narratives and Identity: Active Agency and the Formation of Counter-Narratives

by Yvan Yonaha, Student, MA in Philippine Studies, UP Asian Center
For more details on other panels and panelists, please click on the PACS program below:
ABOUT THE CONFERENCE & KEYNOTE SPEAKERS
The conference is being held in celebration of the 30th founding anniversary of the Philippine Association for Chinese Studies (PACS). While the main theme is Philippines-China economic relations, the conference also includes topics on international relations, and security, and Chinese in the Philippines.
The conference background reads as follows: "Security and geopolitics have long dominated narratives of Philippines-China relations but changing local and regional dynamics are beginning to cast more light on the transformative role of economics in the bilateral relations. A stream of high-level official visits, reciprocal exchanges and mutual consultations followed President Duterte's October 2016 state visit to Beijing, demonstrating both sides' deep interest in implementing key economic, trade and investment deals. Chinese-led undertakings, notably the Belt and Road connectivity, Asian Infrastructure Investment Bank, and Silk Road Fund are gaining traction with projects taking shape in Southeast, Central, South and West Asia, Caucasus and Africa. With the Philippines aiming to accelerate annual infrastructure spending, increase agricultural and rural enterprise productivity and rural tourism as part of the government's 10-Point Socioeconomic Agenda, expanded economic cooperation with its neighbors, including China, is becoming more valuable than ever. Given the dynamics in the country, the region, and the world, how should the Philippines consider its economic relations with China?"
The keynote speakers are the Secretary of Socio-Economic Planning, Ernesto Pernia, and the Philippine Ambassador to China, Jose "Chito" Sta. Romana.
---
The UP Asian Center offers M.A. degrees in Asian Studies with four fields of specialization: Northeast Asia, Southeast Asia, South Asia, and West Asia. The Center also has an M.A. program in Philippine Studies that allows students to major in Philippine society and culture, Philippine foreign relations, or Philippine development studies. The Center offers a Ph.D. program in Philippine Studies in conjunction with the College of Arts and Letters and the College of Social Sciences and Philosophy. Get an overview of these programs. The Asian Center also houses a peer-reviewed, open-access journal, Asian Studies: Journal of Critical Perspectives on Asia. It has published several books and monographs, and hosts or organizes various lectures and conferences.