Professor Santamaria Examines Sama Ritual, Film in Malaysia Seminar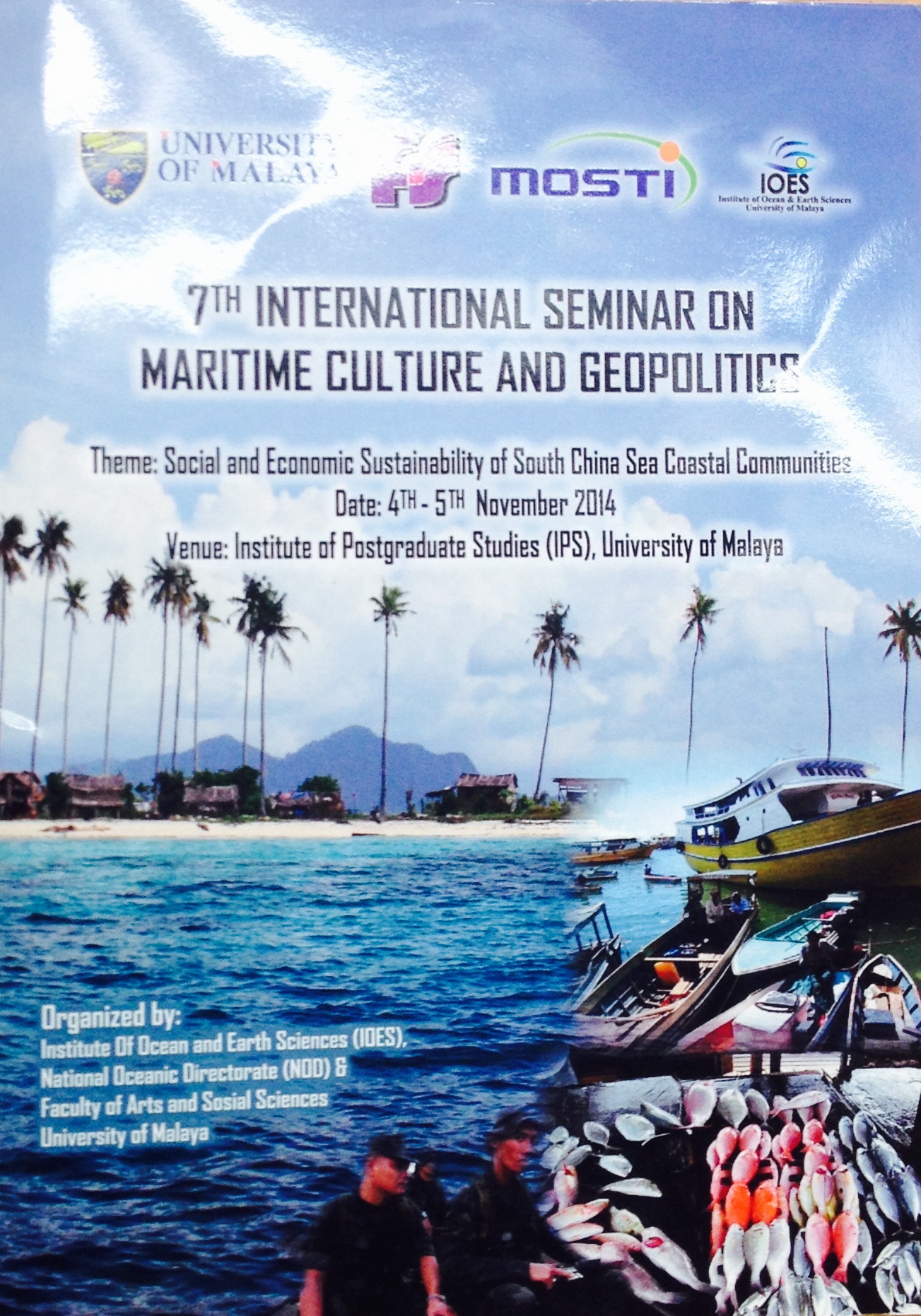 Professor MCM Santamaria chaired a panel and delivered two papers at the 7th International Seminar on Maritime Culture and Geopolitics held from 4 to 5 November 2014 in Kuala Lumpur, Malaysia.
Prof. Santamaria's two papers examined the social and economic sustainability of coastal communities in the South China Sea.One, Pag-jamu Bohey Daya: Observing socialization and memory in the music-dance ritual of the sacred well among the Sama of Tabawan Island, municipality of South Ubian, Tawi-tawi province, Southern Philippines," looks at ritual – the performance of the igal dance and kulintangan music tradition of the Sama Tabawan group – as an important source of collective memory and socialisation process.  A pre-Islamic past informs such collective memory while trance dancing allows ancestral spirits transmit messages helps socialize the ritual's participants and spectators, who learn social prescriptions and proscriptions.  
The other paper, "Into Thy Womb: Ethnographic conflation and other critical discourses on Brillante Mendoza's film about the life of a childless Sama Dilaut (Bajau) woman in Tawi-tawi, Southern Philippines," primarily looks at how Mendoza's film, Into thy Womb, celebrates the quotidian realities about its subject matter. In so doing however, Santamaria points that this hyper-realism keels over into ethnographic conflation, in which "a piece of fiction is confused as a piece of ethnography." This is done through the visual, auditory, and kinetic elements of the film, and Santamaria suggests how recontextualization of films as fiction can preclude cases of ethnographic conflation. 

Professor Santamaria also chaired a panel during the conference, which was organized by the Maritime Culture and Geopolitics Unit, Institute of Ocean and Earth Sciences, and the Faculty of Arts and Social Sciences, at the University of Malaya.
Professor Santamaria teaches courses on Readings in Philippine Socio-cultural Studies, Theater and Society in East Asia, and Southeast Asian Culture and Society, among others. He finished his Doctor of Law at Kyoto University, Japan, and Master in International Studies at the University of the Philippines Diliman. His research interests include politics, performance studies, and Japanese and Southeast Asian studies.
The Asian Center offers MA degrees in Asian and in Philippine Studies. The Asian Studies program offers specializations in Northeast Asian Studies, Southeast Asian Studies, South Asian Studies, or West Asian Studies. The Center also has an M.A. program in Philippine Studies that allow students to specialize on Philippine society and culture, Philippine foreign relations, or Philippine development studies. The Center also offers a Ph.D. program in Philippine Studies in conjunction with the College of Arts and Letters and the College of Social Sciences and Philosophy. Like the Asian Center on Facebook and follow us on Twitter @upasiancenter.