Students, Faculty of UP Asian Center Organize, Present Papers @ PH Strategic Environment Conference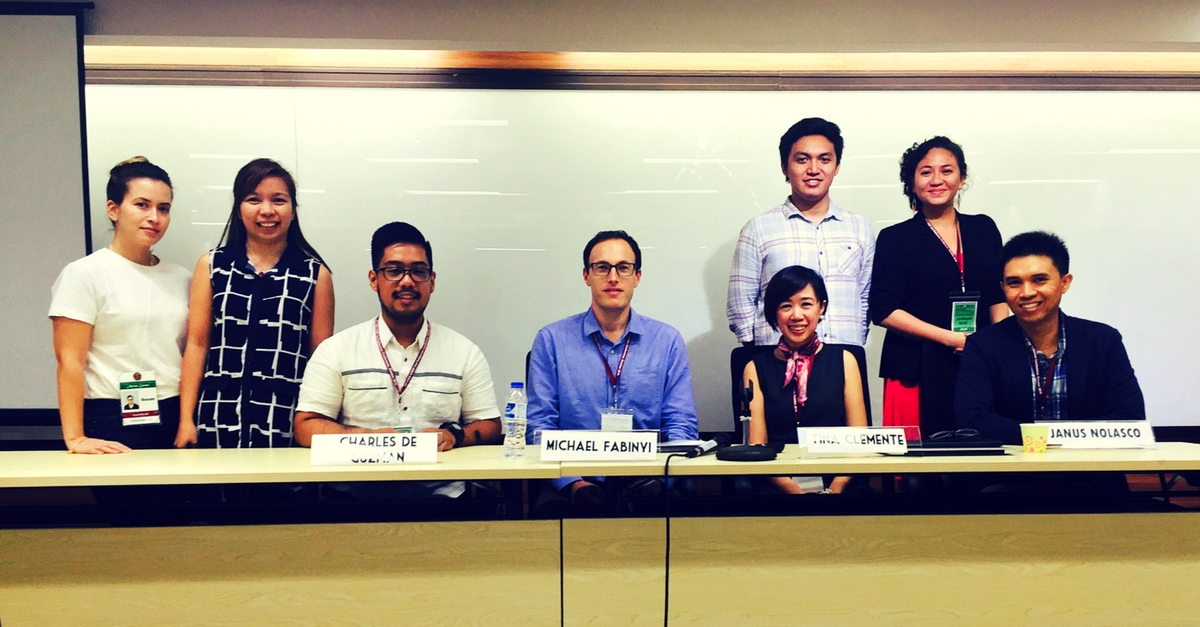 Asian Center staff, students, faculty and other participants.
---
Students and faculty members of the UP Asian Center organized and gave presentations during the 2nd Katipunan Conference, "The Philippine Strategic Environment, New Directions New Challenges", which took place from 20 to 21 October 2016 at Bocobo Hall, the College of Law, University of the Philippines Diliman.
The papers presented covered an array of topics on national and foreign policy issues crucial to the Philippines.
Dr. Tina Clemente presented "Current Challenges in Philippines-China Economic Relations," which attempted to contribute to the discussion on Philippines-China economic relations in light of misperceptions about the history of bilateral economic relations between the two economies and the perceived current economic turn of the Philippines towards China.
Associate Professor Rolando Talampas' paper was entitled "Coast Cost and Poor Ports: China and the ASEAN Conundrum." He argued that maritime Asia has been inundated with cheap (also smuggled) goods and bads and troubled by the invasive nine-dash line as China has arguably paved the maritime passageway on its eastern seaboard partly and enhanced its port and logistic capabilities.
Presenters from alumni of the Asian Center included Mr. De Guzman who argued in his paper that "Philippines-China Relations, 2001-2008: Dovetailing National Interests," Mr. De Guzman demonstrated how the Joint Marine Seismic Undertaking between China and the Philippines is an attempt of both countries to advance their respective national interests.
A student of the UP Asian Center also took part in the conference. Mr. Gabriel Honrada, in his paper "A Damoclean Peace: Arms Sales in Southeast Asia," he reviewed the state of arms race in Southeast Asia and argued that arms sales reinforce stability albeit through a negative peace and that this stability is only as durable as the military capabilities of the weakest state involved.  
Professor Aileen Baviera was part of Panel 5 on "The Role of Think Tanks in the Strategic Environment," where she discussed her work in the Asia Pacific Pathways to Progress Foundation. Mr. Janus Isaac Nolasco, University Researcher @ UP Asian Center moderated Panel 2, which was on "China-Philippines Economic Relations"
In attendance were Ms. Amihan Ruiz, a student of the UP Asian Center working with Dr. Clemente and who helped organize the conference; Mr. JM Lanuza, a research associate of the Asian Center's institutional research program (Bugkos); Ivy Ganadillo, another student majoring in China Studies; and Susan Kurdli, Editorial Associate at Asian Studies, a journal published by the Asian Center.
---
 The UP Asian Center offers M.A. programs in Asian Studies with four fields of specialization: Northeast Asia, Southeast Asia, South Asia, and West Asia. The Center also has an M.A. program in Philippine Studies that allows students to major in Philippine society and culture, Philippine foreign relations, or Philippine development studies. The Center offers a Ph.D. program in Philippine Studies in conjunction with the College of Arts and Letters and the College of Social Sciences and Philosophy. Get an overview of these programs. The Asian Center also houses a peer-reviewed, open-access journal, Asian Studies: Journal of Critical Perspectives on Asia. It has published several books and monographs, and hosts or organizes various lectures and conferences.