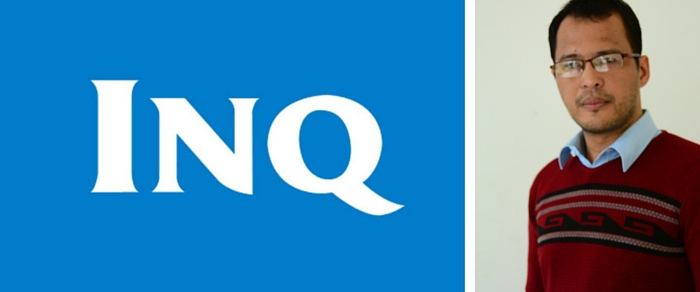 Photo: Dr. Henelito A. Sevilla, Jr. Asian Center file photo (R). Left: Inquirer logo.  
---
Dr. Henelito Sevilla, Jr., Assistant Professor at the UP Asian Center, wrote a commentary, "To Embrace the Spirit of Acceptance and Tolerance" for the Philippine Daily Inquirer. The essay, published on 8 April 2016, discusses the Hizmet movement and its mission to provide a "balanced education system that promotes moderation and embraces diversity."
Founded by Fethullah Gullen, a Turkish scholar, Hizmet is "present in more than 160 countries under different organizational names and memberships, and with most of the members sharing the objective of fostering world tolerance and dialogue through moderated education." Below are some excerpts from the commentary: 
On Islam and Violence
It is unfortunate that religion has been falsely used to justify one's act of violence in order to hide one party's parochial interests, Gulen says, adding that Islam has been wrongly interpreted by Western reporters and commentators alike as a religion that promotes violence....
....Gulen has been very critical of using religious ideology in promoting terrorism. He believes that the true measurement of any religious belief is to follow the "core principles shared by all major world faiths, such as upholding the sanctity of life and respecting the dignity of all humans."
Hizmet and Education
Most members of the decentralized global Hizmet movement are volunteer teachers, entrepreneurs, and ordinary Turkish nationals. They are visible in America, Asia, Africa, Central Asia, Europe and the Middle East. They have established schools, business councils and dialogue organizations, and they constantly consult and collaborate impartially with the host government, educational sectors, nongovernment organization and communities in various areas, such as educational promotion, trade cooperation and cultural and dialogue promotion.
Hizmet in the Philippines
In the Philippines, there are three Gulen-inspired schools: Filipino-Turkish Tolerance School in Zamboanga, and Fountain International School (grade school) on Annapolis Street and Fountain International School (high school) on Santolan Street, both in San Juan City. These schools advance the study of sciences and mathematics and follow the Cambridge education.
Dr. Henelito A. Sevilla, Jr. is Assistant Professor at the Asian Center, University of the Philippines Diliman and Assistant to the Dean for Administration and Public Affairs. He specializes in Mindanao studies, Philippine-Middle East Relations, political economy of the Middle East, energy security in Asia, Persian Gulf security and Middle Easterners in the Philippines. The coordinator of the West Asian Studies graduate program of the UP Asian Center, he handles several graduate courses such as Seminar on West Asia, Philippine Foreign Relations in Selected Countries in West Asia, and History and Development of Philippine Foreign Policy. 
---
The UP Asian Center offers M.A. degrees in Asian Studies with four fields of specialization: Northeast Asia, Southeast Asia, South Asia, and West Asia. The Center also has an M.A. program in Philippine Studies that allows students to major in Philippine society and culture, Philippine foreign relations, or Philippine development studies. The Center offers a Ph.D. program in Philippine Studies in conjunction with the College of Arts and Letters and the College of Social Sciences and Philosophy. Get an overview of these programs. The Asian Center also houses a peer-reviewed, open-access journal, Asian Studies: Journal of Critical Perspectives on Asia. It has published several books and monographs, and hosts or organizes various lectures and conferences.