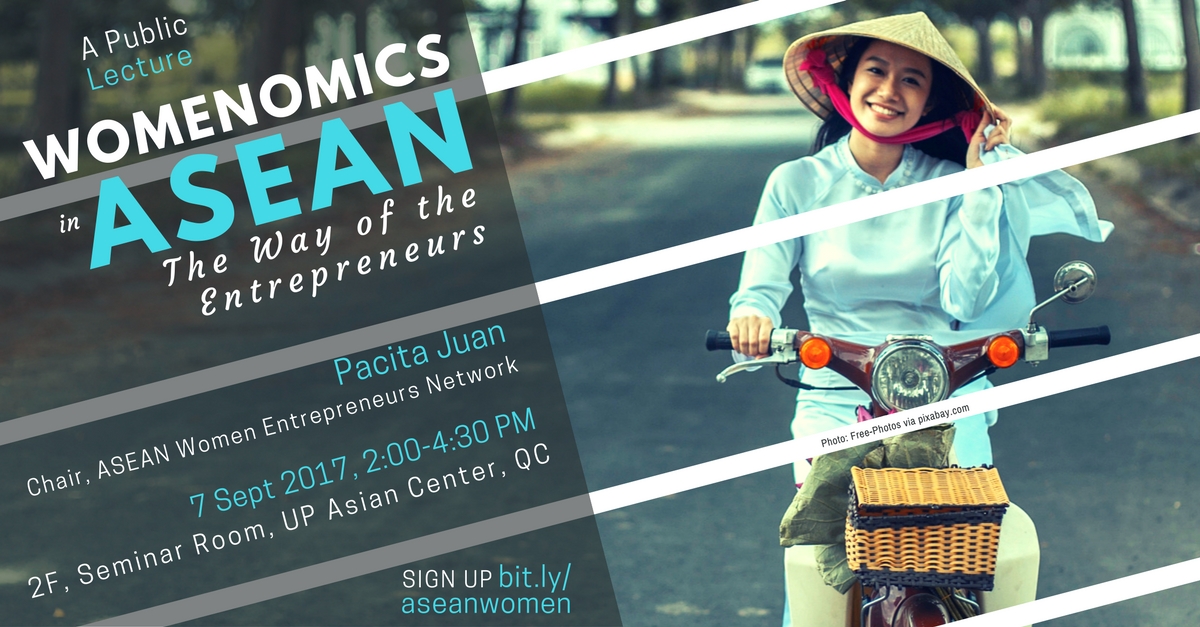 ---
The UP Asian Center will host a public lecture, "Womenomics in ASEAN: The Way of the Entrepreneurs" on 7 September, 2:00 pm to 4:30 pm, Seminar Room, UP Asian Center, QC. The lecture is free and open to the public, but participants are encouraged to sign-up to help organizers estimate attendance.
ABOUT THE LECTURE
To help address poverty in ASEAN, Viet Nam put forth the initiative to set up the ASEAN Women Entrepreneurs' Network (AWEN) in November 2007, which was later finalized in October 2012. Endorsed by ASEAN member states and part of a "cooperative programme between the ASEAN Committee on Women and ASEAN Confederation of Women's Organization," AWEN seeks to "develop and propose initiatives to promote economic and trade activities in order to enhance gender equality, empower and strengthen entrepreneurship skills for women in ASEAN Community; create favorable environment for female-led enterprises and support for women entrepreneurship in the region."
How has AWEN initiatives fared so far? What is the role of women in economic development in ASEAN? How much value do they add to their respective economies? As chair of AWEN, Pacita U. Juan will share in this lecture her experiences in leveraging women's strengths to make them effective leaders in communities and all the way up to the boardroom. She will share success stories of and challenges faced by women in the grassroots as well as women in corporate boards in creating livelihoods, empowering communities, and promoting human, social, and economic development.
ABOUT THE SPEAKER
Pacita Juan is the Chair of the ASEAN Women Entrepreneurs Network (AWEN) for May 2016-2018. She has spoken on sustainability, women empowerment, and the coffee trade in several conferences and international fora, including the Global Summit of Women, Asia Pacific Economic Community, and ASEAN meetings.  Pacita Juan is also the current chair of the Women's Business Council of the Philippines, an advocacy group for policy reforms to empower women in business composed of women CEOs and COOs. An award-winning Filipino businesswoman and social entrepreneur, she is founder of Figaro Coffee Co., a Filipino coffee chop chain, and co-founder of ECHOstore, a sustainability lifestyle store and market-cafe. She has authored several books on coffee and the coffee business, and writes columns for the Philippine Daily Inquirer, the Philippine Star, Starweek, and others. Pacita Juan is a leading voice in the Philippine Business, sitting on the board of several companies and business associations. 
ABOUT AWEN
To learn the history and initiatives of ASEAN Women Enterpreneurs' Network, visit the AWEN website.  
VENUE And VICINITY MAP
Vehicles entering the UP Asian Center (GT-Toyota Asian Cultural Center) grounds can only do so via the gate on Magsaysay Avenue that is near a UP guardhouse, a few meters away from Katipunan Avenue, and across Maynilad. A small gate for pedestrians on Guerrero St. lies across the College of Law parking lot and a few meters away from a waiting shed, where the Ikot jeepney, and jeepneys from Philcoa and SM North pass by. VIEW VICINITY MAP | GO TO GOOGLE STREET VIEW
INQUIRIES And ATTENDANCE
If you are planning to come with/as a big group (a class or delegation), please inform us the number of participants at This email address is being protected from spambots. You need JavaScript enabled to view it.. It would also be best if their names could be registered online (one name, one entry) or if you could send us a list of their names.
---
The UP Asian Center offers M.A. degrees in Asian Studies with four fields of specialization: Northeast Asia, Southeast Asia, South Asia, and West Asia. The Center also has an M.A. program in Philippine Studies that allows students to major in Philippine society and culture, Philippine foreign relations, or Philippine development studies. The Center offers a Ph.D. program in Philippine Studies in conjunction with the College of Arts and Letters and the College of Social Sciences and Philosophy. Get an overview of these programs. The Asian Center also houses a peer-reviewed, open-access journal, Asian Studies: Journal of Critical Perspectives on Asia. It has published several books and monographs, and hosts or organizes various lectures and conferences.