Dr. Sevilla Discusses PH Perspectives on Taiwan's New Southbound Policy in Hanoi Conference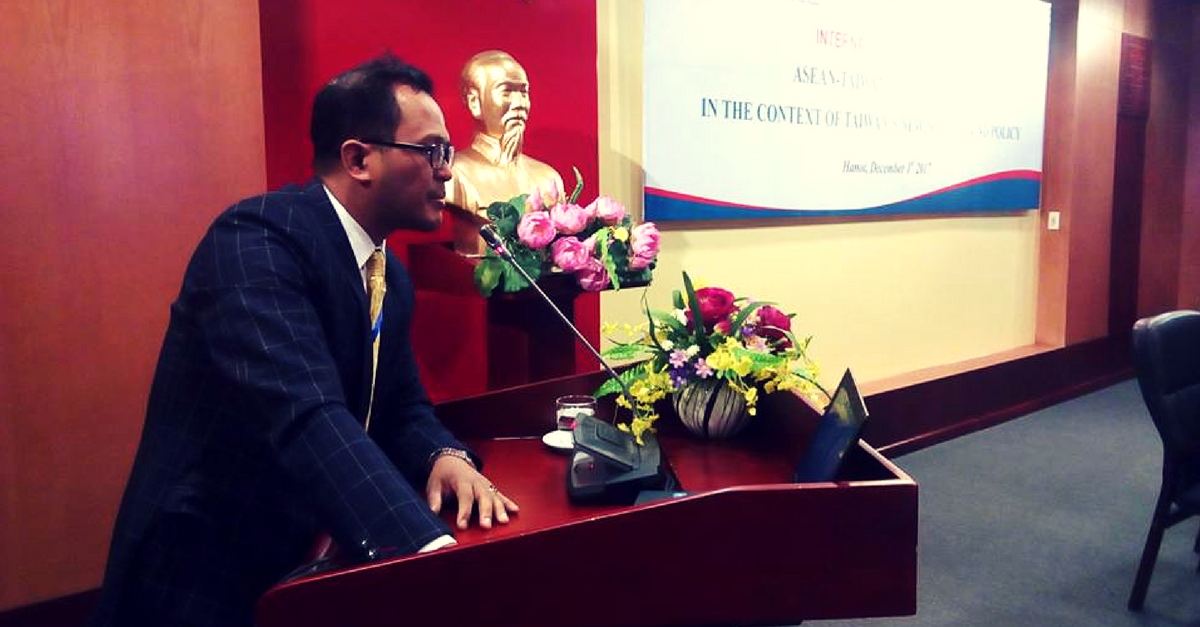 Photo: Dr. Henelito Sevilla, Jr. presenting his paper in Hanoi. Grabbed from his Facebook page.
---
Dr. Henelito A. Sevilla, Jr. of the UP Asian Center presented his paper, "ASEAN-Taiwan Relations under Taiwan's New Southbound Policy: A Philippine Perspective," at the International Conference on ASEAN-Taiwan (ROC) Relations in the context of Taiwan's New Southbound Policy, which was held on 1 December 2017 in Hanoi, Vietnam.
ABSTRACT
The Southeast Asian region in recent years has achieved outstanding performance in terms of economic growth as ASEAN tries to bring member states into a strong but flexible, consolidated community that can work on its common aspirations for political-security, economic and socio-cultural community. In 2017, as ASEAN celebrates its 50th anniversary, legitimate questions are to be asked: How do ASEAN member states perceive and respond to "Taiwan's New Southbound Policy" (NBSP) in lieu of China's attractive and influential Belt and Road Initiative (once known as the One Belt, One Road" (OBOR) Initiative)?
This paper will particularly looks at the case of the Philippines (Chair of ASEAN in 2017) under the new administration of President Duterte. Amidst the warming relations between People's Republic of China and the Philippines, how does President Duterte see Taiwan's project and what sort of strategy will the Philippines use to take advantage of opportunities offered under Taiwan's NSBP without affecting its relations with China? This paper then will try to offer the Philippine perspective regarding Taiwan's NSBP.
Dr. Sevilla observes that in spite of the Philippines' One China Policy, the country has taken full advantage of the economic and sociocultural opportunities under the New Southbound Policy. These have manifested in sustained and increasing trade and economic transactions between the two countries, as well as increasing visits of Filipinos to Taiwan under the Taiwanese  unilateral free visa policy.
ABOUT THE CONFERENCE
The Conference was organized by the Institute for Southeast Asian Studies of the Vietnam Academy of Social Sciences, with the support and cooperation of the Chaing Ching-kuo Foundation.
ABOUT DR. SEVILLA
Dr. Henelito A. Sevilla, Jr. is Assistant Professor at the Asian Center, University of the Philippines Diliman and Assistant to the Dean for Administration and Public Affairs. He specializes in international relations, Mindanao studies, Philippine-Middle East Relations, political economy of the Middle East, energy security in Asia, Persian Gulf security and Middle Easterners in the Philippines. The coordinator of the West Asian Studies graduate program of the UP Asian Center, he handles several graduate courses such as Seminar on West Asia, Philippine Foreign Relations in Selected Countries in West Asia, and History and Development of Philippine Foreign Policy. Visit his faculty profile. 
---
The UP Asian Center offers M.A. degrees in Asian Studies with four fields of specialization: Northeast Asia, Southeast Asia, South Asia, and West Asia. The Center also has an M.A. program in Philippine Studies that allows students to major in Philippine society and culture, Philippine foreign relations, or Philippine development studies. The Center offers a Ph.D. program in Philippine Studies in conjunction with the College of Arts and Letters and the College of Social Sciences and Philosophy. Get an overview of these programs. The Asian Center also houses a peer-reviewed, open-access journal, Asian Studies: Journal of Critical Perspectives on Asia. It has published several books and monographs, and hosts or organizes various lectures and conferences.