Mga Naiwang Bakas: Ang Kulturang Iraya at Alangan: A Multimedia Exhibit on Mangyan Culture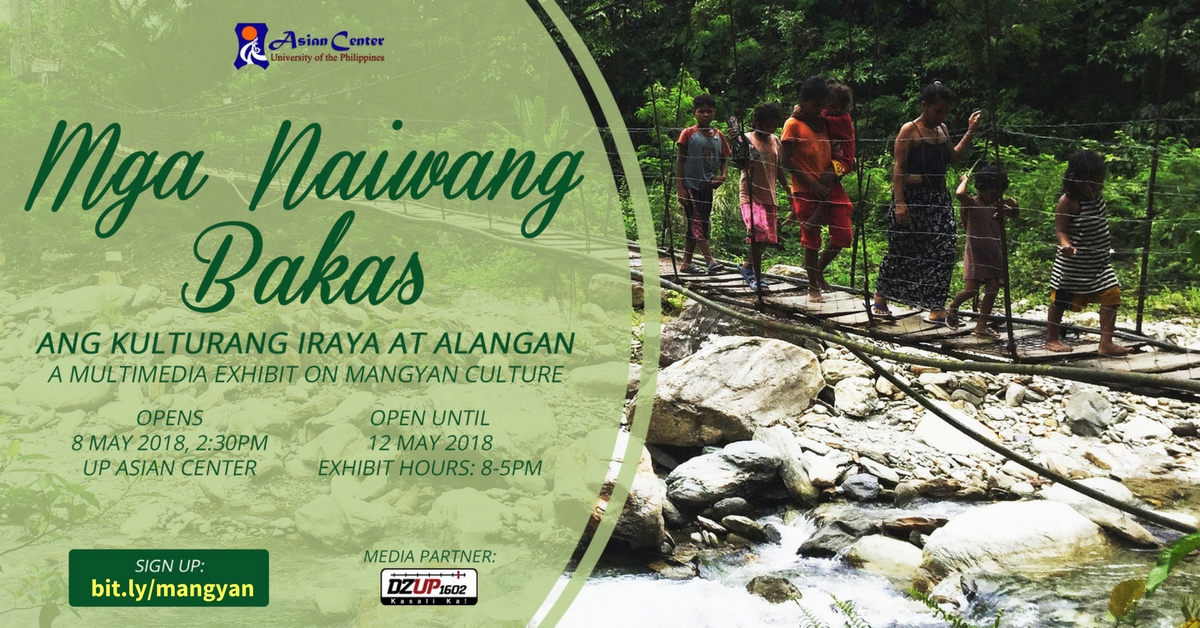 The UP Asian Center will host a multimedia exhibit, Mga Naiwang Bakas: Ang Kulturang Iraya at Alangan from 8 to 12 May 2018 at the Philippines and China Halls, UP Asian Center, Diliman, Quezon City. The exhibit is free and open to the public, but participants are asked to sign up.
The exhibit showcases the highlights, experiences, and findings of graduate students of the UP Asian Center on their cultural immersion and mapping of two Mangyan communities in northern Oriental Mindoro—the Iraya Mangyan tribe of Puerto Galera and the Alangan Mangyan tribe of Baco—from 21–22 April 2018.
ABOUT THE EXHIBIT
The exhibit opens on 8 May 2018, 2:30 pm. The graduate students will use photographs, videos, artifacts, and other modes to share their narratives, reflections, and insights on their experiences and findings in Mindoro.
Through these multimedia platforms, they seek to reveal:
Challenges facing the preservation of the Mangyan's traditional ways of life amidst the current trends of globalization and transnationalism, as well as the trap of poverty and discrimination that they experience everyday





Alternative perspectives of local social and cultural development from one of the oldest living communities in the Philippines in contrast to current dominant perspectives; and





A connection between the progress and challenges of two cultural communities that are situated in one locality which can help benchmark later cultural immersions and mappings of other communities.
The exhibit ends on Saturday, 12 May 2018. Exhibit hours are 8:00 am to 5:00 pm.
ABOUT THE ORGANIZERS
The exhibit is part of a class project of the students of Philippine Studies (PS) 201, "The Philippines in Asia and the Pacific" taught this semester by Dr. Henelito Sevilla, Jr., Assistant Professor and Assistant to the Dean for Administration and Public Affairs. PS 201 involves a "systematic analysis of the Philippines as a complex society within the context of developments in the Asia-Pacific region.
VENUE and VICINITY MAP
For general directions, please view our vicinity map  and/or check out Google Street View. For inquiries, please email This email address is being protected from spambots. You need JavaScript enabled to view it. . 
YOU MAY ALSO BE INTERESTED IN: 
---
The Asian Center offers M.A. degrees in Asian Studies with four fields of specialization: Northeast Asia, Southeast Asia, South Asia, and West Asia. The Center also has an M.A. program in Philippine Studies that allows students to major in Philippine society and culture, Philippine foreign relations, or Philippine development studies. The Center offers a Ph.D. program in Philippine Studies in conjunction with the College of Arts and Letters and the College of Social Sciences and Philosophy. For an overview of these graduate programs, click here. The Asian Center also publishes Asian Studies: Journal of Critical Perspectives on Asia, the latest issue of which can be downloaded at the journal's website. For other news and upcoming events at the Asian Center, click here.