Call for Applications: 2018 ASEAN-Korea Youth Network Workshop | Seoul and Manila, July 2018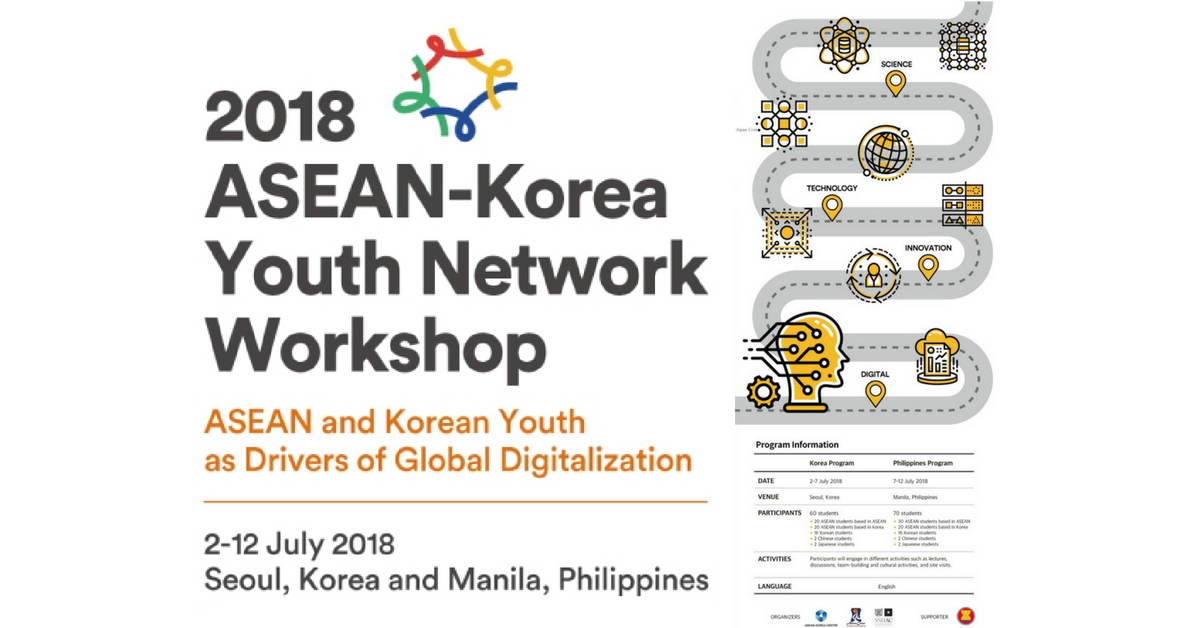 The Asian Center, University of the Philippines Diliman will screen applications from Filipino citizens for the 2018 ASEAN-Korea Youth Network Workshop, which will be held in Seoul, Korea from 2 to 7 July 2018 and in Manila, Philippines from 7 to 12 July 2018. 
WORKSHOP OBJECTIVES
The theme of this year's workshop is "ASEAN and Korean Youth as Drivers of Global Digitalization." It aims to:
Raise the awareness of the ASEAN, Korea, and ASEAN-Korea relations among the participants

Deepen understanding of STI and ICT, specifically digital technology and innovation, among the youth participants from ASEAN, Korea, China, and Japan

Provide network-building opportunities among the participants
PROGRAM OVERVIEW (Click Image Below to Enlarge)

NUMBER OF PARTICIPANTS
The UP Asian Center will select two (2) Filipino citizens for the Seoul leg, and ten (10) for the Manila leg. The Seoul participants will also take part in the Manila leg.
ELIGIBILITY
The UP Asian Center will screen only applications from Filipino citizens* based in the Philippines and other ASEAN countries who must : 
Be currently an undergraduate or graduate student

Be 19 to 35 years old

Have an interest in ASEAN, ASEAN-Korea relations, and digitalization

Have a passport that complies with the six-month validity rule (for Seoul leg participants only)
APPLICATION PROCESS/REQUIREMENTS
To help ensure that your application will be received and processed, please use the subject line, "ASEAN Korea Workshop Application" and send the following documents to This email address is being protected from spambots. You need JavaScript enabled to view it.
Application Form (Download)

Consent Form (Download)

CV

Colored scan/photo of Student ID with validation sticker for current semester or equivalent) OR Certificate of Enrollment in present semester 
Please double-check everything; applications with incomplete requirements will not be entertained, so please make sure you comply with the requirements. 
Shortlisted applicants must prepare for an interview (office hours) between 22 and 24 May 2018 @ UP Asian Center. Additional instructions will be sent to those who will be interviewed. 
DEADLINES and NOTICES
Submission of applications: 21 May 2018
Notice of acceptance: 25 May 2018
FUNDING COVERAGE
Only the following expenses related to the program and its duration are covered:

Roundtrip airfare to and from Seoul/Manila

Transportation to program venues within Seoul and/or Manila

Breakfast, lunch, dinner

Accommodations 
 The following pre- and post-program expenses will be covered by the participants:

Application fees for a Korean visa

Transportation to Manila from other Philippine cities

Transportation to other Philippine cities from Manila

Accommodations in Manila before/after the program
ORGANIZERS
The workshop is organized by the ASEAN-Korea Centre, the UP Asian Center, and the Seoul National University Asia Center. To learn more about the workshop, please visit the web page of the ASEAN-Korea Centre.
INQUIRIES
Please send any inquiries via this Inquiry Form, which helps ensures that all queries are centralized, tracked and thus answered. 
---
The Asian Center offers M.A. degrees in Asian Studies with four fields of specialization: Northeast Asia, Southeast Asia, South Asia, and West Asia. The Center also has an M.A. program in Philippine Studies that allows students to major in Philippine society and culture, Philippine foreign relations, or Philippine development studies. The Center offers a Ph.D. program in Philippine Studies in conjunction with the College of Arts and Letters and the College of Social Sciences and Philosophy. For an overview of these graduate programs, click here. The Asian Center also publishes Asian Studies: Journal of Critical Perspectives on Asia, the latest issue of which can be downloaded at the journal's website. For other news and upcoming events at the Asian Center, click here.