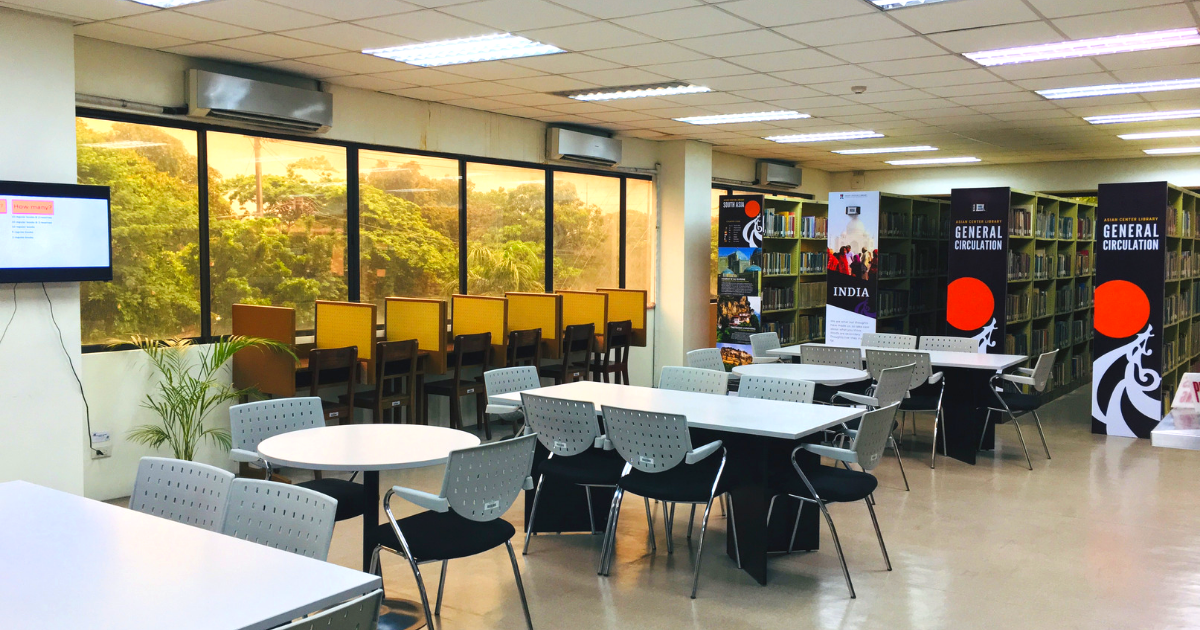 The Asian Center Library is an open shelf service (students can get the books themselves). It offers a variety of resources from books, theses and dissertations to maps, journals, and audiovisual content.
Circulation Books
These books are used most frequently, are placed in the reading area, and arranged alphabetically by call number or discipline. They have neon green stickers on their spine.
Stacks Area
When entering the Stacks area, the library users should bring only paper, pencil/ballpen and ID. Bags are strictly not allowed. Books are arranged according to regions and countries of Asia. You will be guided by the the labels on the shelves. Region and country codes are included in the call number as additional guide. Note: Country codes are indicated only in the actual books, and are not reflected in the OPAC call number. To easily locate the book, bear in mind the country it is about (if applicable).

Periodicals and Journals
These materials located in Hall of Wisdom, Room 209 include current and bound periodicals, arranged alphabetically by title. For more updated journals, refer to the online Electronic Databases. Issues of Asian Studies: Journal of Critical Perspectives on Asia, published since 1963 by the Asian Center, University of the Philippines are available for download.
---
Reference Books, Theses, & Dissertations, Maps, and Audio Materials
Audiovisual materials include DVDs, CDs, VCDs, and VHSs of movies, documentaries, promotional videos, and language learning lessons, among others. A high-definition TV, projector, and DVD player may be used.
The Asian Center library also keeps the MA theses and PhD dissertations of its graduates. They are available only for room use. To access them, please consult the desk librarian. Library users may also consult maps of Southeast Asia, Philippines, East Asia, and other Asian regions.
---
Special Collections
The library also mantains the Saniel Collection, which refers to books owned and donated by the former dean of the Asian Center, Dr. Josefa Saniel, who is now Professor Emeritus of the college.
A modest collection of books and resources on ASEAN may also be accessed. These books and materials are placed in a separate room inside the library and are available only for room use. To access, please ask the desk librarian. Kindly note that the iLib does not indicate whether a book is part of the Asian Center library's special collection.
---
The Asian Center offers M.A. degrees in Asian Studies with four fields of specialization: Northeast Asia, Southeast Asia, South Asia, and West Asia. The Center also has an M.A. program in Philippine Studies that allows students to major in Philippine society and culture, Philippine foreign relations, or Philippine development studies. The Center offers a Ph.D. program in Philippine Studies in conjunction with the College of Arts and Letters and the College of Social Sciences and Philosophy. For an overview of these graduate programs, click here. The Asian Center also publishes Asian Studies: Journal of Critical Perspectives on Asia, the latest issue of which can be downloaded at the journal's website.