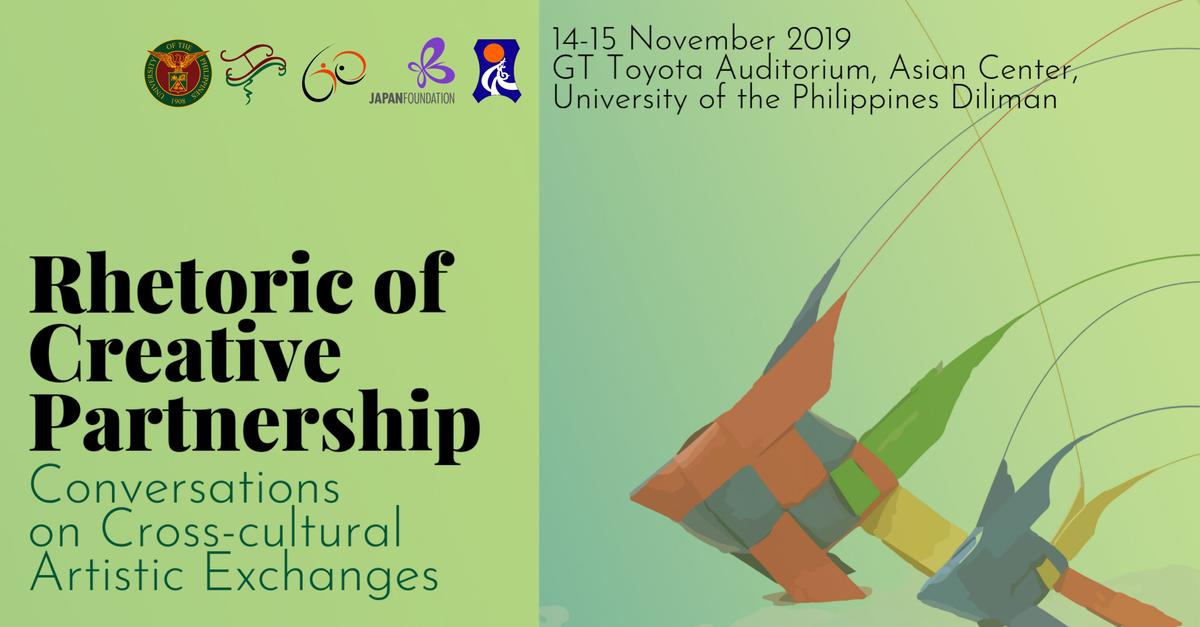 The UP Department of Speech Communication and Theatre Arts, in partnership with the Japan Foundation Manila, will host an international academic gathering where artists, festival curators, choreographers, set designers, and art practitioners from Japan, USA, Singapore, Thailand, Vietnam and the Philippines are given a space to talk about their work to heighten their artistry and creativity as starting points of artistic knowledge. This event aims to create a venue for a dialogue on creative and artistic collaboration in the performing arts.
Happening this 14-15 November 2019 at the GT Toyota Auditorium, Asian Center, University of the Philippines Diliman, our goal is to gather and engage more than 500 artists, scholars, students and enthusiasts of the performing arts to discuss their works and creative processes, and to share and generate artistic knowledge. This gathering highlights the role of artists as cultural producers, as well as the need for actual practitioners to directly engage audiences and communities without intermediaries. An emphasis is also placed on cross-cultural exchanges and creative partnerships to shift the conversation to the collaborative, rather than individual artistry. It calls for the assessment of current practices in international collaboration and the identification of possibilities in future artistic engagements.
This conference is co-organized and spearheaded by the Department of Speech Communication and Theater Arts, College of Arts, University of the Philippines Diliman. The two-day conference will feature six plenary sesssions, two keynote addresses, and several performances.
14 NOVEMBER 2019
Registration starts 8 am


Opening Program


Welcome Message

Amihan Bonifacio-Ramolete
Dean, UP College of Arts and Letters

Message from the Chancellor

Michael L. Tan, PhD
Chancellor, UP Diliman

Message from Japan Foundation Manila


Hiroaki Uesugi
Director, Japan Foundation Manila

Message from the Convening Team

Charles Erize P. Ladia

Performance

Theater Students
UP Department of Speech Communication and Theater Arts

Keynote


Introduction of Keynote Speaker

Teresa Paula de Luna, PhD

Opening Keynote

A Unique Process of International Theater Collaboration
Kentaro Matsui, Director, Kirari Fujimi Theater


Plenary 1: Asian Performing Arts Farm 2019


Situating One's Creative Dance Amidst Various Identities and Practices
Maria Stella Manalo Lopez, University of the Philippines Diliman (Philippines)

International Collaboration to Create Multifaceted Crystals
Tomohiko Kogyoku (Japan)

Moderator
Olivia Kristine D. Nieto


Performance

Pahayag
Rhosam Sickledsam Villareal Prudenciado Jr. and Mia Cabalfin

Plenary 2: Practices of Embodiments and Pedagogy

Teru Teru
Armando Rutaquio Jr., De La Salle-College of St. Benilde (Philippines)

Translating Third World Experiences for the First World
Layeta Bucoy, University of the Philippines Los Baños (Philippines)


Moderator
Juan Ysmael C. Mendoza

Plenary 3: Practices of Device and Dramaturgy


If Devising Mean Not: Meta-Dramaturgies of Presence and Absence
Felipe Cervera, PhD, LASALLE College of the Arts (Singapore)


Trusting the Outsider
Jesca Prudencio, San Diego State University (USA)


Moderator
Marielle Justine C. Sumilong


Paglulunsad and Pasasalamat


The CCP Encyclopedia of Philippine Art, 2nd Edition

Performances

Asia Performing Arts Farm 2019: ASIA/N/ESS/ES
Maria Stella Manalo Lopez (Philippines)
Tomohiko Kogyoku (Japan)
Jared Jonathan Luna (Philippines)
Papoom Chiwarak (Thailand)
Fitri Anggraini (Indonesia)


OPENING PROGRAM (9–9:30 AM)


Welcome Message

Amihan Bonifacio-Ramolete
Dean, UP College of Arts and Letters

Message from the Chancellor

Michael L. Tan, PhD
Chancellor, UP Diliman

Message from Japan Foundation Manila


Hiroaki Uesugi
Director, Japan Foundation Manila

Message from the Convening Team

Charles Erize P. Ladia

Performance

Theater Students
UP Department of Speech Communication and Theater Arts

---

KEYNOTE SPEECH (9:30–10:30 AM)


Introduction of Keynote Speaker

Teresa Paula de Luna, PhD

Opening Keynote

A Unique Process of International Theater Collaboration
Kentaro Matsui, Director, Kirari Fujimi Theater

---

PLENARY 1: ASIAN PERFORMING ARTS FARM 2019 (11–12:30 PM)


Situating One's Creative Dance Amidst Various Identities and Practices
Maria Stella Manalo Lopez, University of the Philippines Diliman (Philippines)

International Collaboration to Create Multifaceted Crystals
Tomohiko Kogyoku (Japan)

Moderator
Olivia Kristine D. Nieto

---

PERFORMANCE (1:30–2 pm)


Pahayag
Rhosam Sickledsam Villareal Prudenciado Jr. and Mia Cabalfin

---

PLENARY 2: PRACTICES OF EMBODIMENTS and PEDAGOGY (2-3:30 PM)


Teru Teru
Armando Rutaquio Jr., De La Salle-College of St. Benilde (Philippines)

Translating Third World Experiences for the First World
Layeta Bucoy, University of the Philippines Los Baños (Philippines)


Moderator
Juan Ysmael C. Mendoza

---

PLENARY 3: PRACTICES OF DEVICE and DRAMATURGY (4–5:30 PM)


If Devising Mean Not: Meta-Dramaturgies of Presence and Absence
Felipe Cervera, PhD, LASALLE College of the Arts (Singapore)


Trusting the Outsider
Jesca Prudencio, San Diego State University (USA)


Moderator
Marielle Justine C. Sumilong


---

PAGLULUNSAD AT PASASALAMAT (6–6:30 PM)


The CCP Encyclopedia of Philippine Art, 2nd Edition

---

PERFORMANCES (6:30–7:30 PM)

Asia Performing Arts Farm 2019: ASIA/N/ESS/ES
Maria Stella Manalo Lopez (Philippines)
Tomohiko Kogyoku (Japan)
Jared Jonathan Luna (Philippines)
Papoom Chiwarak (Thailand)
Fitri Anggraini (Indonesia)
---
15 NOVEMBER 2019
Registration starts 8 am


Summary of the First Day


Marti Rodriguez

Plenary 4: Collaborative Platforms


The Way of Engagement from Communities to Artists in an Independent Art Festival
Yi-Kai Kao, Thinker's Theater (Taiwan)

PINEAPPLE LAB — The Arts and the Barangay
Andrei Nikolai Pamintuan, Pineapple Lab (Philippines)

Moderator
Rex Sandro M. Nepomuceno


Plenary 5: Contemporary Scenography


Setting the Scene
Mio Infante (Philippines)

Working with International Artists and Technicians: Collaborative Engagements in the Production and Set Design of Two Plays Produced In and Outside the Philippines
Leo Abaya, University of the Philippines Diliman (Philippines)

Moderator
John Carlo V. Pagunaling

Plenary 6: Arts and Cultural Leadership


Palabas to Pagsasabuhay: Questions, Provocations and Propositions for Radical Shifts and Imagination for Necessary Contemporary Performance-making
Joseph Keith Anicoche, Sipat Lawin Ensemble (Philippines)

Problematizing Sustainability in Theater
Rodolfo Vera, Writers Bloc Inc. (Philippines)

Moderator
Sir Anril P. Tiatco, PhD


Closing Keynote


Introduction of Keynote Speaker

Bryan L. Viray

Keynote Address


Crossing Artistic Borders in Sonic Creative Expressions
Ramon P. Santos, National Artist of the Philippines for Music


Closing Ceremonies


Performance

UP Tugtugang Musika Asyatika (UP TUGMA)

Message from the Asian Center

Joefe B. Santarita, PhD
Dean, UP Asian Center


Closing Message

Belen D. Calingacion, PhD

Farewell Message from the Convenors

Olivia Kristine D. Nieto

SUMMARY OF THE FIRST DAY

Marti Rodriguez

---

PLENARY 4: COLLABORATIVE PLATFORMS (9–10:30 AM)


The Way of Engagement from Communities to Artists in an Independent Art Festival
Yi-Kai Kao, Thinker's Theater (Taiwan)

PINEAPPLE LAB — The Arts and the Barangay
Andrei Nikolai Pamintuan, Pineapple Lab (Philippines)

Moderator
Rex Sandro M. Nepomuceno

---

PLENARY 5: CONTEMPORARY SCENOGRAPHY (11–12:30 AM)


Setting the Scene
Mio Infante (Philippines)

Working with International Artists and Technicians: Collaborative Engagements in the Production and Set Design of Two Plays Produced In and Outside the Philippines
Leo Abaya, University of the Philippines Diliman (Philippines)

Moderator
John Carlo V. Pagunaling

---

PLENARY 6: ARTS and CULTURAL LEADERSHIP (1:30–3 PM)


Palabas to Pagsasabuhay: Questions, Provocations and Propositions for Radical Shifts and Imagination for Necessary Contemporary Performance-making
Joseph Keith Anicoche, Sipat Lawin Ensemble (Philippines)

Problematizing Sustainability in Theater
Rodolfo Vera, Writers Bloc Inc. (Philippines)

Moderator
Sir Anril P. Tiatco, PhD

---

CLOSING KEYNOTE (3:30–4:30 PM)


Introduction of Keynote Speaker

Bryan L. Viray

Keynote Address


Crossing Artistic Borders in Sonic Creative Expressions
Ramon P. Santos, National Artist of the Philippines for Music

---

CLOSING CEREMONIES (4:30–5:30 PM)


Performance

UP Tugtugang Musika Asyatika (UP TUGMA)

Message from the Asian Center

Joefe B. Santarita, PhD
Dean, UP Asian Center


Closing Message

Belen D. Calingacion, PhD

Farewell Message from the Convenors

Olivia Kristine D. Nieto