Reuben Ramas Cañete, PhD: Scholar, Critic, Artist (1966–2017)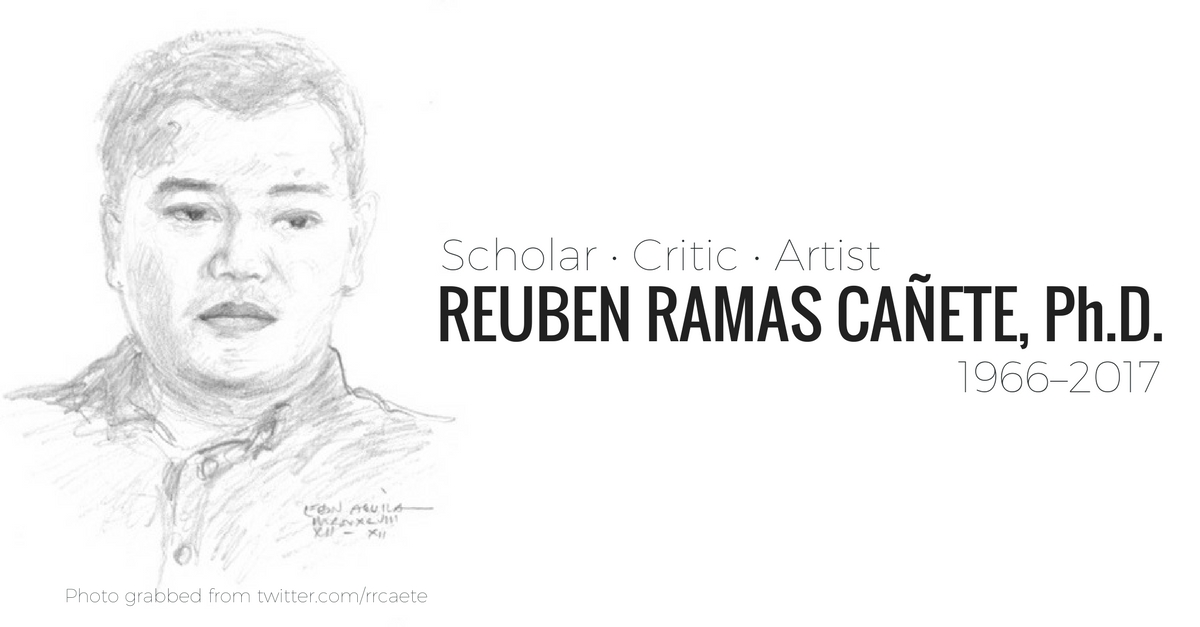 The students, staff, and faculty of the Asian Center, University of the Philippines Diliman, are deeply saddened by the passing of their teacher, colleague, and mentor, Reuben Ramas Cañete, Ph.D., last 17 February 2017. He was 50.
Professor Cañete served as Assistant to the Dean for Cultural Affairs, under which capacity he became curator of the UP Asian Center Museum. Later, he was appointed Assistant to the Dean for Research and Publications.  In 2015, he was named UP Artist II and, at the time of his passing, editor of the journal, Humanities Diliman. The author of numerous articles, books, and essays, he specialized in museum studies, visual anthropology, cultural policy and political aesthetics, among many others. VIEW FACULTY PROFILE. 
Friends, (former) students, and colleagues offered tributes, shared memories, expressed gratitude, and gave their final farewells on social media. Gerard Lico, Professor at the College of Architecture, wrote:
Thank you.... my dearest friend. I will forever cherish our friendship. I am really blessed to have you as my roommate in the Faculty Center when I began my teaching career. I will miss our discussions on books, music and architecture…...I will also miss your editorial advice for Espasyo and the profound language of your writing….
Dr. Tina Clemente, Associate Professor at the UP Asian Center, shares: 
I have so many pleasant memories of Reuben...He was so much fun! One time, we talked about outfits. He said that he had a three-piece suit custom-made just for the opening of classes!... Also, I want to celebrate his excellence as an academic. His work reminds me always that one must set the bar high. I'm very glad to have met Reuben.
Professor Cañete was indeed a prolific scholar and writer; his outstanding and voluminous publications record is an enduring testimony to his contributions to Philippine art scholarship. His book, Sacrificial Bodies: The Oblation and the Political Aesthetics of Masculine Representation in Philippine Visual Cultures (2012), is a seminal academic work on the Oblation, the statue that adorns every UP campus and serves as the defining symbol of the university.
For one reviewer, "Cañete's ably argued construction of the Oblation as a hybrid figure that eludes easy interpretation deconstructs monolithic masculinities, and opens up spaces for alternative models and politics of manhood: less individualistic, less self-absorbed, and more giving than older male stereotypes."
The book began as his 2008 dissertation for his doctorate in Philippine Studies at the University of the Philippines Diliman. His later forays on masculinity generated incisive analyses of pornography, of Bench ads, and of Philippine realist film. Several of these works were published in Masculinity, Media, and their Publics in the Philippines: Selected Essays (2014). 
Throughout his academic career, Professor Cañete penned various books on individual artists, such as Juvenal Sanso (b. 1929), Manuel Baldemor (b. 1947), and Federico Aguilar Alcuaz (1932–2011). He devoted two books to Amadeo Y. Manalad (1911–1984). The first, Drawing a Saga, analyzes Manalad's Philippine Saga, a series of post-World War II works that offers a grand, sweeping portrayal of Philippine History since pre-modern times. The other, Telling Tadhana, launched just last October 2016, examines Manalad's works that popularized, via art, Tadhana, a volume on Philippine history authored by President Ferdinand Marcos.   
Professor Cañete's scholarship shows an intimate knowledge of form and medium. For instance, in the second Manalad book, his attention to the details of that artist's sketches is impressive, his prose exuding a confidence arising from expertise and experience. Most importantly, he was equally adept at relating such technical questions to larger sociopolitical issues, not least Philippine nationalism, identity, and history.
In Sanso Moderno: A Brilliant Summer for Life's Autumn (2011), for instance, Professor Cañete situates the career of Juvenal Sanso amidst the turmoil of the Second World War and post-War Philippine society, the conflict between modernists and traditionalists in the Philippine art world, and the (purported) relevance of the former to the ideals of liberal democracy and the so-called Free World. Professor Cañete notes that the Cold War coincided with the rise of modernist and abstract art movements across Europe and Asia after World War II. This included the development of neorealism in 1960s Philippines. 
His expertise is widely recognized. In 2014, Professor Cañete received an Achievement Award from the National Research Council of the Philippines." Sacrificial Bodies was awarded in 2013 the Alfonso T. Ongpin Prize for Best Book on Art by the National Book Development Board. In 2015, he was elected UP Artist II in honor of his "outstanding productivity in the creative arts or in arts scholarship." 
Completing his MA in Art History at the University of the Philippines in 2002, Professor Cañete wrote much on Philippine art history and criticism, including 2008 articles such as "Metacritique of Philippine Modernist Art Criticism from the Sixties to the Eighties" (in Philippine Studies: Have We Gone Beyond St. Louis?) and "Hispanic Strains in Philippine Modern and Contemporary Art," which appeared in the volume, More Hispanic Than We Admit: Insights into Philippine Cultural History. He also has two essay collections, Art and Its Contexts: Essays, Reviews, and Interviews on Philippine Art (2012) and an edited volume, Suri Sining: The Art Studies Anthology (2011).
Professor Cañete was frequently invited to facilitate art criticism workshops. In May 2015, he gave several lectures at the Herencia Seminar-Workshop in Iloilo, which served as a training program for public school teachers and aimed to promote the teaching of art in the Philippines. He discussed color theory and painting, the use of art in the classroom, and developing lesson plans that center on the arts and the humanities.
Later that year, he shared his experiences as an art critic in a forum, "Critical Platforms," which was sponsored by Art+Magazine and the UP Vargas Museum. He took part in a panel, "The State of Art Criticism in the Philippines: Challenges and Opportunities," where he highlighted the need for art critics to be accessible, especially through popular media, and noted that the challenge they face pertains to selecting what (kind) of art they will and should evaluate. He also discussed notions of what to him is "quality writing"—one which is independent of academic jargon. Practicing what he preached, he contributed essays to various non-academic publications such as magazines like BluPrint and CondoLiving and broadsheets like The Inquirer and The Philippine Star.
In April 2016, he served as lead lecturer and facilitator of the Metrobank Art and Design Excellence (MADE) Art Criticism Master Class, which was held at the Cultural Center of the Philippines. He was also invited to deliver a lecture, "Philippine Arts & Culture in the Socio-Historical Context of Nation, Region & Globalization" on Philippine art for the University of the Philippines' official TV channel, TVUP. His lecture is one of many video-recorded lectures by experts on various topics.
Professor Cañete first taught in UP Diliman at the Department of Art Studies, College of Arts and Letters, and moved to the UP Asian Center in 2012, where he taught MA- and Ph-D level courses on Philippine art and culture, among others. Respected, loved, and admired by his students, he was able to inculcate a sharper understanding and appreciation of art. Even fellow professors said as much. "I always liked paintings and sculptures," said Professor Aileen Baviera, "but disliked installation art until Reuben mounted an exhibit and showed me the creativity behind it." 
He was also a highly accomplished artist. Majoring in painting for his Fine Arts degree at the University of Santo Tomas, he has had several solo exhibitions, including Kosmograpiya at the UP Asian Center in June 2014. It featured "a collection of fifty works on paper based on images of cosmic entities like galaxies and nebulae…and [is] inspired by the efforts of Asian scholars, philosophers, and scientists to represent and study the cosmic order since the dawn of civilization." He read Carl Sagan and Stephen Hawking, and Kosmograpiya represents his attempt to "draw the universe" by using abstract techniques of art.
For the exhibit, he developed his "own system of artwork cataloguing," which is partially based on "the system of astrophysical terms established by the International Astronomical Union." The titles of his works in Kosmograpiya were an "adaptation of the shorthand codes found in astronomical catalogues." Several works in the collection would later be exhibited in "Eternity in an Hour: A Celebration of Reuben Ramas Cañete's "Kosmograpiya" and "Four Seasons" in November 2016. 
That he read on astrophysicists is testimony to the formidable range of his knowledge, which encompassed "linguistics, sociology, and anthropology, among other fields," says JM Lanuza, thrice his student at the UP Asian Center. Equally impressive is the depth of his expertise. "One time," says Janus Nolasco, managing editor of Asian Studies: Journal of Critical Perspectives on Asia, who for over a year shared an office with Professor Cañete, "we overheard him explaining to a visitor a very minor detail about either a Chinese or a Roman art form, I forgot which. Anyway, this was such a tiny piece of information that I wouldn't have expected him to know it. But he did. And that he mentioned it so casually made it even more amazing. And last August, knowing of his expertise in masculinity, I once asked him about Philippine action movies, and he gave me a crash course on the history of Philippine film, covering the rise and decline of LVN and the other major studios."
This willingness to expound shows not just a generosity but also a genuine love for intellectual discourse. "He could never resist having an intellectual engagement with students," says Laya Boquiren, Professor Cañete's student since her undergraduate days in the early 2000s, and currently a Ph.D. student at the Tricollege Philippine Studies program. This love of scholarly discussion was matched by an equal passion for "fine food and fine wine," not surprising for one so steeped in art and aesthetics.  At any rate, as Laya attests, his classes became "feeding programs," both literally and figuratively, as students received nourishment both from delicacies and debates.
But the academic feedings did not come, and were not done, with a spoon. In class, shares Laya, he "sounded the alarm (it was literally alarming, trust me) after a 15-minute presentation, made faces if the discussion of the author lacked rigor, minced no words for the mediocre, and took over the discussion when he got excited."
With his fine-tuned aesthetic sense and scholarly excellence, Professor Cañete was annoyed at anything pedestrian, but his aesthetics extended to everyday matters as well. He had, as Dr. Tina Clemente puts it, "the capacity to enjoy mundane things and see the beauty of and in the everyday. One thing I regret is that we didn't co-author an article on Star Trek. I was happy to find a kindred spirit in geeky love for the franchise."
Professor Cañete was equally familiar with the institutional and policy aspects of art, especially in the Philippines. He was a member of the Executive Council of the National Committee on Visual Arts, National Commission for Culture and Arts (NCCA) from January 2014 to December 2016; and served as President of the Art Association of the Philippines from 2000 to 2002.
Born in Cebu, Professor Cañete wrote a preliminary analysis of ceiling murals on five Southeastern Cebu paintings. He had a passion for the preservation and promotion of local art traditions, one which dovetails with his interest in folk art. In turn, this interest would be expressed in, among many other works, The Global Paisano: Manuel Baldemor's Folk Modernist Vision and Pulilan: The Blessed Land. The latter work, a handsome coffee table book, would yield a separate essay on the carabao festival of Pulilan, Bulacan. His familiarity with local artists made him the ideal editor for a directory of visual artists in the Central Philippines. In recognition of his scholarship on and promotion of Visayan artistic traditions, he was given a special award during the 2016 Viva Excon (Visayas Islands Visual Awards Exhibition and Conference) in November 2016.
"UP and the country lost an outstanding art scholar and critic," tweeted Butch Dalisay. Indeed. They did. We did. 
---
The Asian Center offers M.A. degrees in Asian Studies with four fields of specialization: Northeast Asia, Southeast Asia, South Asia, and West Asia. The Center also has an M.A. program in Philippine Studies that allows students to major in Philippine society and culture, Philippine foreign relations, or Philippine development studies. The Center offers a Ph.D. program in Philippine Studies in conjunction with the College of Arts and Letters and the College of Social Sciences and Philosophy. For an overview of these graduate programs, click here. The Asian Center also publishes Asian Studies: Journal of Critical Perspectives on Asia, the latest issue of which can be downloaded at the journal's website. For other news and upcoming events at the Asian Center, click here.