Dean Santarita Identifies Challenges to ASEAN Labor Migration in Bangkok Forum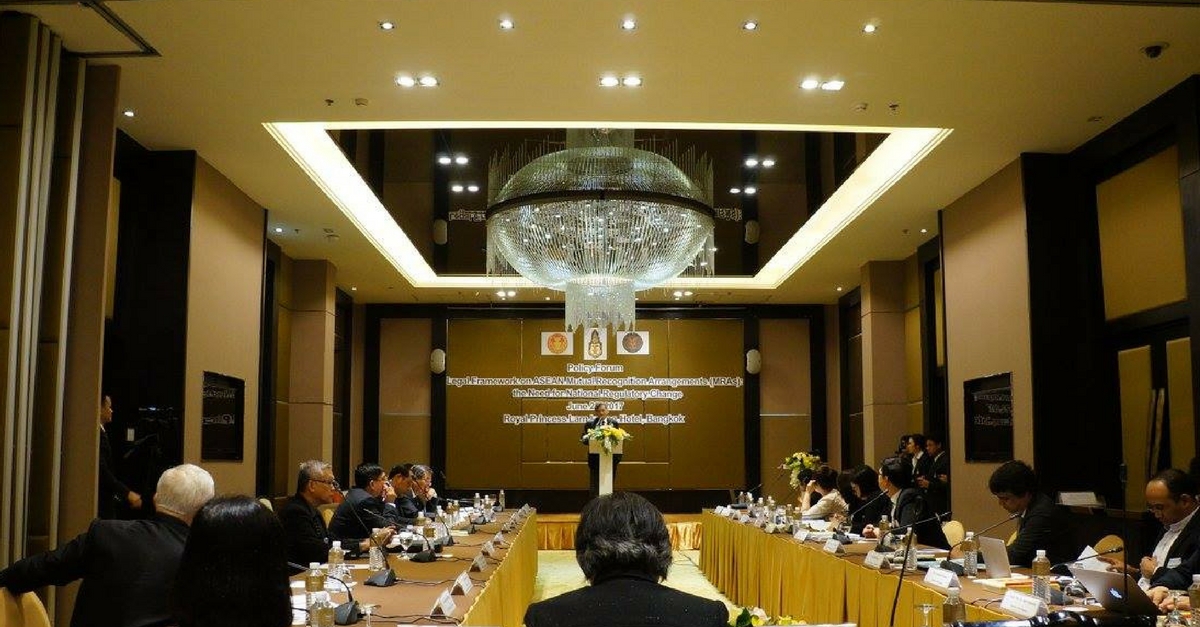 Dean Joefe B. Santarita, Ph.D. of the UP Asian Center delivered a presentation on Mutual Recognition Agreements and ASEAN labor migration at a policy forum, "Legal Framework on ASEAN Mutual Recognition Arrangements (MRAs): The Need for National Regulatory Change," on 22 June 2017 at the King Prajadhipok's Institute, Bangkok, Thailand.
In his presentation, Dean Santarita "...identified the challenges faced by member states in implementing MRAs on skilled labor, which fall under three broad categories: historical-legal, bureaucratic, and educational-cultural."
He also "recommended that the ASEAN Secretariat serve as the "clearing house" and coordinator of intra-regional worker applications in order to better facilitate the mobility of professionals, but also stressed the need for each member state to amend its labor laws and constitutional provisions."
Dean Santarita was joined in Bangkok by Research Fellows of the Center for Integrative and Development Studies (CIDS)-CIFAL of the University of the Philippines, including Dr. Rene Ofreneo and CIDS-CIFAL researcher Jeremaiah Opiniano, who presented his joint research with Dr. Jean Franco of the UP Department of Political Science. 
This write-up is based on information in a CIDS-CIFAL press release, which sums up the presentations of Dr. Ofreneo, Jeremiah Opiniano, Dr. Jean Franco, and other participants in the forum.
Dean Santarita specializes in Indian studies, migration studies, Philippine culture and society, maritime history and Southeast Asian political economy. Dr. Santarita, who obtained his Ph.D. in South Asian Studies from the National University of Singapore, handles several graduate courses at the UP Asian Center, including those on Regionalism and Community Building in Asia, Modern Asia, and Asia in Antiquity, among others. Visit his faculty profile.
---
The UP Asian Center offers M.A. degrees in Asian Studies with four fields of specialization: Northeast Asia, Southeast Asia, South Asia, and West Asia. The Center also has an M.A. program in Philippine Studies that allows students to major in Philippine society and culture, Philippine foreign relations, or Philippine development studies. The Center offers a Ph.D. program in Philippine Studies in conjunction with the College of Arts and Letters and the College of Social Sciences and Philosophy. Get an overview of these programs. The Asian Center also houses a peer-reviewed, open-access journal, Asian Studies: Journal of Critical Perspectives on Asia. It has published several books and monographs, and hosts or organizes various lectures and conferences.