Download PPT: "China's Belt and Road Initiative: Vision and Implementation" | Aileen Baviera, PhD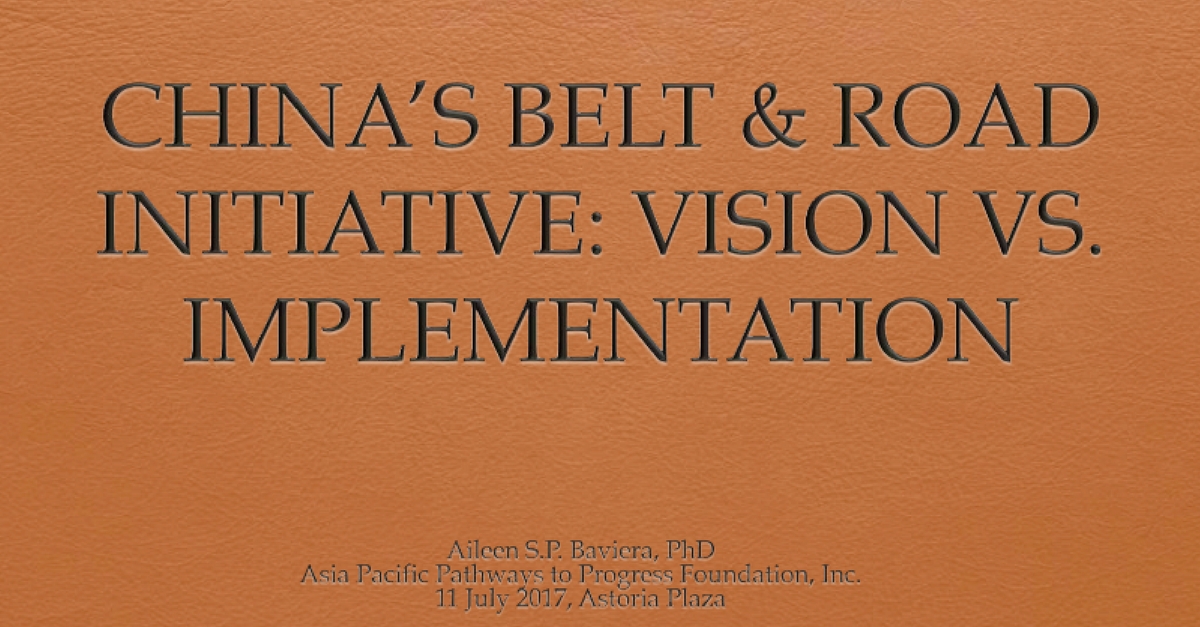 Dr. Aileen Baviera, Professor at the UP Asian Center, delivered a presentation, "China's Belt and Road Initiative: Vision vs. Implementation," at the Roundtable Discussion on China's Belt and Road Initiative and Philippines-China Infrastructure Cooperation last 11 July 2017 at Astoria Plaza in Pasig City, Philippines.
According to a news report published by the Asia Pacific Pathways for Progress Foundation, "Dr. Baviera's presentation…..provided a comprehensive introduction on China's Belt and Road initiative, explaining the what, why, and how of the grand project from China's perspective. The project, which includes 65 countries and has two components (The Silk Road Economic Belt and the 21st Century Maritime Silk Road), focuses on connectivity in terms of:
(1) policy coordination
(2) facilities connectivity i.e. infrastructure
(3) trade connectivity
(4) finance connectivity, and
(5) people connectivity.
From an economic perspective, the main objective of China in launching this initiative is to put its excess production capacity to profitable use, while at the same time developing the Western part of China. Thus, the focus in on infrastructure building. Based on several analyses, the BRI also serves to shore up domestic support for Xi's leadership. At the same time, it may also be aimed at countering the China Threat rhetoric as China refocuses its foreign policy on cooperation-centered discourses.
Dr. Baviera also gave a clear overview of the possible benefits and costs of engaging with China on the BRI. Financing for infrastructure, access to technology and the Chinese market, connectivity with other countries, reducing dependence on traditional donors, and development of badly needed ports and airports are some of the identified benefits under the BRI. Hypothetically, some possible costs or risks would include being caught in a "debt trap" particularly should there be unfavorable terms for loans, having to adjust to new or incompatible technologies and systems, or lack of capacity to absorb Chinese demand for Philippine products and services should BRI participation result in significantly more trade and investments. There are also risks of increased economic dependence on China, added security vulnerability should some of the projects touch on sensitive areas, and perceptions of an obligation to politically support China's "grand strategy".
China's own concerns on the implementation aspects of the BRI were also highlighted in her presentation, particularly fears about the security situations in partner countries, and the possibility of policy inconsistency and reversals by the governments. She concluded by saying that the Initiative itself is dynamic, open to negotiation and reciprocity, and presents a choice for the Philippines, rather than being seen as inevitable. Since there are both potential benefits and costs, it is wise for the Philippines to develop a policy on China's BRI, while also being mindful of the risks of bandwagoning on the project as more and more countries and organizations participate. Recalling past incidents such as the Northrail scandal and the failed NBN-ZTE project, the Philippines must also learn from its own past mistakes in engaging with China economically."
This article quotes and is part of a longer essay published by Asia Pacific Pathways for Progress Foundation. The article also contains a link to Dr. Baviera's co-presenter during the roundatble, Dr. Cielito Habito's Belt and Road Initiative: Implications, Opportunities for the Philippines. 
Dr. Aileen SP. Baviera is Professor at the Asian Center, University of the Philippines Diliman. She specializes on and writes about contemporary China studies, China-Southeast Asia relations, Asia-Pacific security, territorial and maritime disputes, and regional integration. The editor in chief of the journal, "Asian Politics & Policy," she is the author of many academic publications, including the "The Domestic Mediations of China's Influence in the Philippines," which appears in Rising China's Influence in Developing Asia, edited by Evelyn Goh and published by Oxford University Press. She completed her Ph.D. in Political Science at the University of the Philippines Diliman. VIEW FULL PROFILE.
---
The UP Asian Center offers M.A. programs in Asian Studies with four fields of specialization: Northeast Asia, Southeast Asia, South Asia, and West Asia. The Center also has an M.A. program in Philippine Studies that allows students to major in Philippine society and culture, Philippine foreign relations, or Philippine development studies. The Center offers a Ph.D. program in Philippine Studies in conjunction with the College of Arts and Letters and the College of Social Sciences and Philosophy. Get an overview of these programs. The Asian Center also houses a peer-reviewed, open-access journal, Asian Studies: Journal of Critical Perspectives on Asia. It has published several books and monographs, and hosts or organizes various lectures and conferences.