'Moving Forward with PH-China Economic Relations:' Dr. Clemente Presents Paper in Fudan University, Shanghai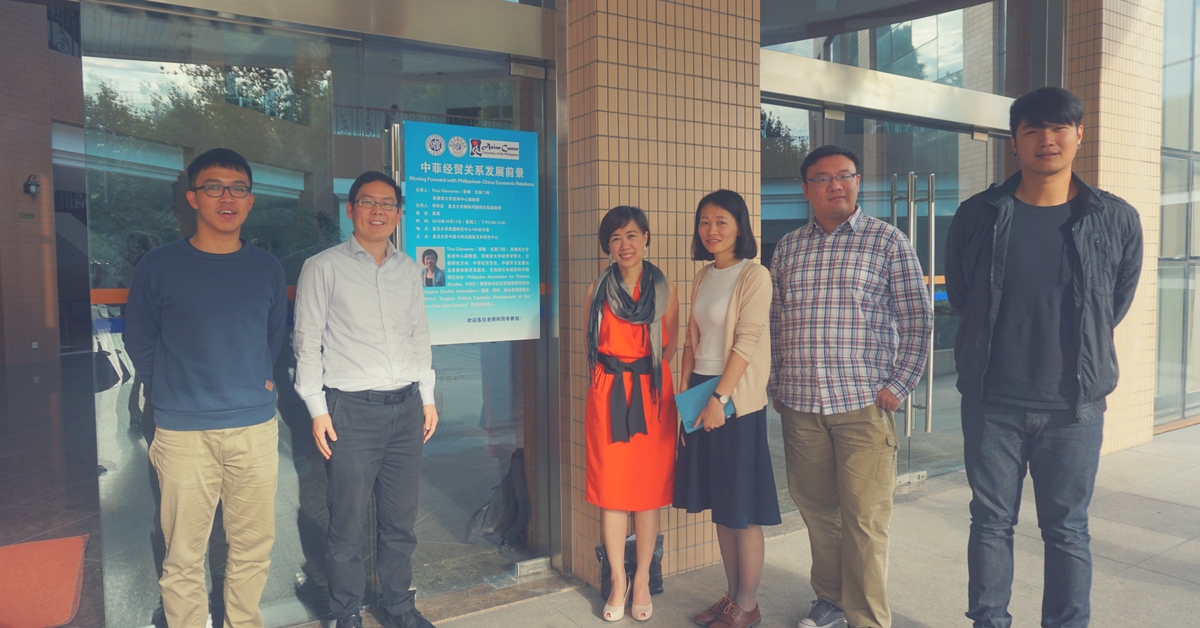 Dr. Tina Clemente, Associate Professor at the UP Asian Center, was invited to deliver a lecture by Dr. Qi Huaigao, Assistant Dean of the Institute of International Studies, Fudan University in Shanghai, People's Republic of China. She gave her presentation on 11 October 2016. 

Dr. Clemente's lecture entitled, "Moving Forward with Philippines-China Economic Relations," presented the potential of succeeding engagement by analyzing economic diplomacy efforts and existing data on trade, investments and aid. The analysis not only underscored the areas or sectors where both countries can benefit from cooperation but also the importance of Philippine domestic development in engaging better with China. Furthermore, the presentation also emphasized that transparent transactions will result in smoother relations.
Dr. Clemente teaches graduate courses at the UP Asian Center, including one on the social and economic development of China, as part of the program on North East Asia with a focus on China. She obtained her Ph.D. in Economics from the School of Economics, University of the Philippines Diliman. Her latest publication is "Understanding Economic Diplomacy between the Philippines and China," which appears in the August 2016 issue of the International Journal of China Studies. 
---
The UP Asian Center offers M.A. programs in Asian Studies with four fields of specialization: Northeast Asia, Southeast Asia, South Asia, and West Asia. The Center also has an M.A. program in Philippine Studies that allows students to major in Philippine society and culture, Philippine foreign relations, or Philippine development studies. The Center offers a Ph.D. program in Philippine Studies in conjunction with the College of Arts and Letters and the College of Social Sciences and Philosophy. Get an overview of these programs. The Asian Center also houses a peer-reviewed, open-access journal, Asian Studies: Journal of Critical Perspectives on Asia. It has published several books and monographs, and hosts or organizes various lectures and conferences.