Filipinizing Romeo and Juliet: MCM Santamaria Takes Part in Asian Shakespeare Conference in New Delhi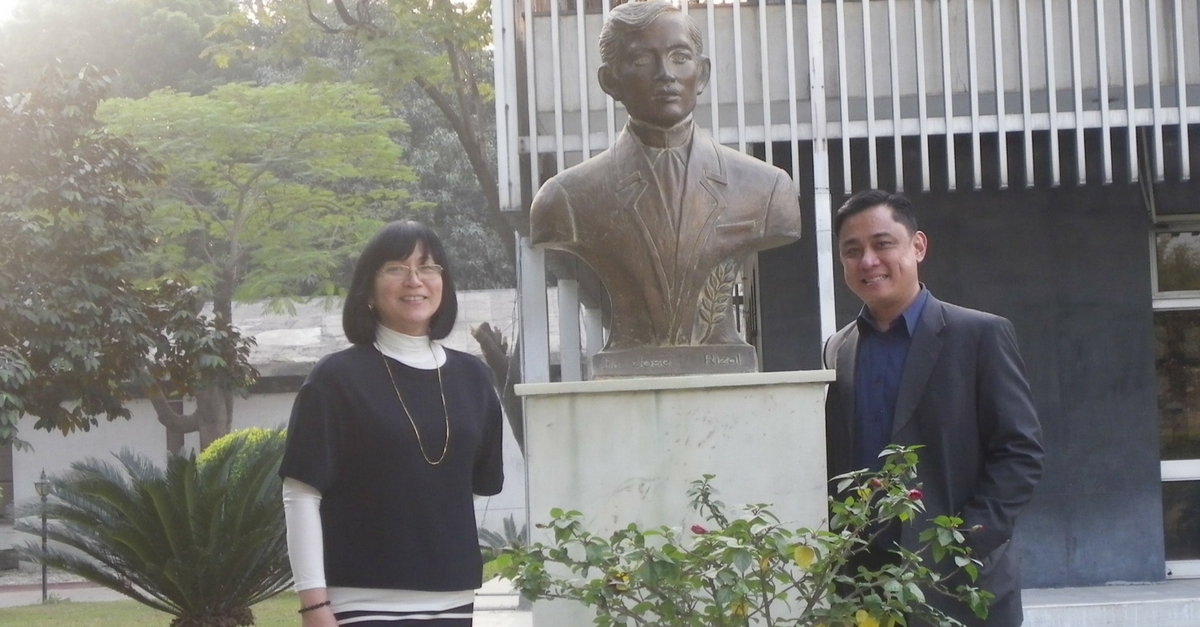 Professor Santamaria (R) with Philippine Embassador to India, Hon. Teresita Daza pose by the bust of Jose Rizal, Philippine national hero, at the Philippine Embassy in New Delhi.  
---
MCM Santamaria, Professor at the UP Asian Center, presented a paper entitled "Choreographing Shakespeare: Reflections on the Use of the Sama-Bajau Igal Dance Tradition in Sintang Dalisay (Pure Love), a Filipino Adaptation of Romeo and Juliet" at the Biennial Conference of the Asian Shakespeare Association,  which was held from 1 to 3 December in New Delhi, India.
In his paper, Professor Santamaria argues that although "rendering Romeo and Juliet in dance is neither new nor problematic [...] in the context of western classical ballet or modern dance." However, "challenges [...] arise when the narrative's movement vocabulary is shifted from a western to an Asian form such as that of the Sama-Bajau igal dance tradition." In addition to the need of relocating the story, there is a  "change in kinaesthetic terms that must take into account local sensibilities, customs and norms, quotidian body language, and ritual procedure."  To address these issues, Professor Santamaria's "article presents a critical reflection on choreographic strategies adopted to treat the above-mentioned issues and challenges in the critically-acclaimed production of Sintang Dalisay, a Filipino adaptation of William Shakespeare's Romeo and Juliet."
In addition to the presentations, the conference had screenings of various adaptations of Shakespeare within Asian traditions. The conference was organized in partnership with Indira Gandhi National Centre for Arts, Shri Ram Centre for Performing Arts, and National School of Drama. Sponsors include the Indian Council of Cultural Relations, Sahitya Akademy, Raza Foundation, Prakriti Foundation, Sangeet Natak Akademy, Shakespeare Association of America.
For more information on the conference, please visit their webpage.
Professor MCM Santamaria has a Doctor of Law in Political Science from Kyoto University, Japan. His research interests include Performance Studies, Politics, Japan and Southeast Asia, and Sama-Bajau studies. He teaches several graduate courses at the UP Asian Center that cover Japanese Culture and Society, Philippine Artistic Expressions, Southeast Asian Culture and Society, and Theater and Society in East Asia, among others. View his faculty profile. 
---
The UP Asian Center offers M.A. degrees in Asian Studies with four fields of specialization: Northeast Asia, Southeast Asia, South Asia, and West Asia. The Center also has an M.A. program in Philippine Studies that allows students to major in Philippine society and culture, Philippine foreign relations, or Philippine development studies. The Center offers a Ph.D. program in Philippine Studies in conjunction with the College of Arts and Letters and the College of Social Sciences and Philosophy. Get an overview of these programs. The Asian Center also houses a peer-reviewed, open-access journal, Asian Studies: Journal of Critical Perspectives on Asia. It has published several books and monographs, andxhosts or organizes various lectures and conferences.