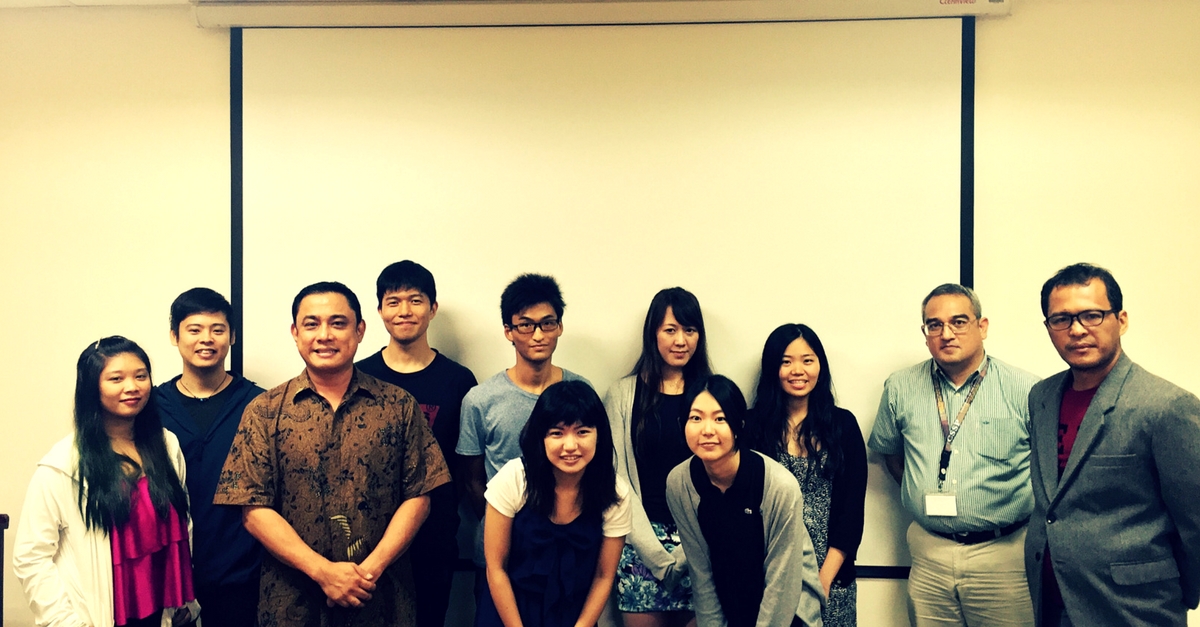 Some of Osaka University students with Professor MCM Santamaria (3rd from left) and Dr. Henelito Sevilla (R) Jr. of the UP Asian Center. Beside Dr. Sevilla is Associate Professor Kraft. 
---
The UP Asian Center hosted several undergraduate students from Osaka University last 9 August 2016; they listened to lectures from UP faculty and delivered their own respective presentations.
The students were on a study tour funded by the Future Funds Globalization Support Project (Financial Aid for Overseas Group Training), Osaka University. The students wanted to learn about "the current situation and support for democracy in East Asia and the political awareness among citizens." 
Professor MCM Santamaria gave a lecture on rituals in the southern Philippines, stressing the importance of local agency and adaptations in understanding and appreciating Filipino culture. Associate Professor Herman Kraft of the UP Department of Political Science presented an overview of Philippine politics and political structure, highlighting its personalistic character.
The students in turn shared their presentations on "Political Awareness and Democratization" and on "International Cooperation."  Dr. Sevilla, Assistant to the Dean for Public Affairs and Administration moderated the event. 
An open forum followed the short lectures, where the students asked the faculty about Philippine politics, and the territorial disputes in the South China Sea, among other issues. The students also had a brief walking tour around part of the UP Diliman campus, and flew, days later, to Ho Chi Minh City, Vietnam for the next part of their study tour. 
---
The UP Asian Center offers M.A. programs in Asian Studies with four fields of specialization: Northeast Asia, Southeast Asia, South Asia, and West Asia. The Center also has an M.A. program in Philippine Studies that allows students to major in Philippine society and culture, Philippine foreign relations, or Philippine development studies. The Center offers a Ph.D. program in Philippine Studies in conjunction with the College of Arts and Letters and the College of Social Sciences and Philosophy. Get an overview of these programs. The Asian Center also houses a peer-reviewed, open-access journal, Asian Studies: Journal of Critical Perspectives on Asia. It has published several books and monographs, and hosts or organizes various lectures and conferences.