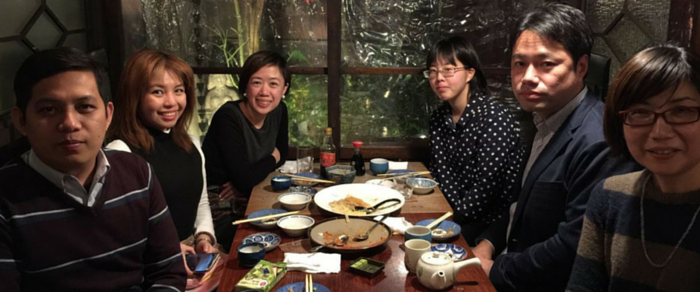 Photo: Dr. Clemente (3rd, L-R) with Asian Center graduate student Alleson Villota II (First from left) and fellow scholars in Japan, including Dr. Wako Asato and Yoko Asato, who is an alumna of the UP Asian Center. Courtesy of Dr. Clemente.
---
Dr. Tina Clemente, Associate Professor at the UP Asian Center, recently returned from a two-week trip to Japan (1 to 13 February 2016), where she worked on her research project on Chinese-Filipinos and their perceptions on the West Philippine Sea (WPS) disputes and presented its progress. She also conducted field work on Yokohama's Chinatown and visited historic and cultural sites in Kyoto.
Public Seminar
Her research presentation was part of a public seminar on 8 February 2016 that was organized by the Department of Sociology, Graduate School of Letters, Kyoto University. Dr. Clemente's presentation,  "Chinese-Filipinos and the WPS Dispute: Nation, Affect, and Aversion," showed a "nuanced picture" of the views of Chinese-Filipino youth on the maritime and territorial disputes; As such, it offered a critique of a "simplistic view on group-think." This study is part of her 18-month-long research project funded by the Office of the Vice President on Public Affairs, University of the Philippines.
During her two-week stay, Dr. Clemente also processed data on the research and "reflected on the themes of integration, identity dynamics, community building, nationalism and the interface of intimate and public spheres." She discussed these and other issues with fellow scholars based in Kyoto University, such as Dr. Wako Asato of the Graduate School of Letters and Professor Caroline Hau of the Center for Southeast Asian Studies.
Field Work in Chinatown, Yokohama
A few days before the public seminar, Dr. Clemente traveled to Yokohoma on 6 February, where she gathered material for a "visual ethnography of the city's Chinatown" (said to be biggest in Asia) that will help facilitate "a comparative reflection on the reactions of the Chinese communities in Japan and in the Philippines." While in Yokohama, Dr. Clemente met briefly with Dr. Michiyo Yoneno-Reyes, Associate Professor at the UP Asian Center, who is on a one-year leave to conduct her own research at the University of Tokyo.
Cultural Immersion
Completing Dr. Clemente's two-week tour were immersion trips to different historically and culturally significant sites in Kyoto, Japan's ancient capital. She visited temples such as the Silver Pavilion and the Shimogamo Shrine; attended the Setsubun Festivities in Yoshida Shrine; and sampled the diverse culinary delights of Japanese cuisine. Taking in all the sights, Dr. Clemente reflected how "the confluence of political-economic thrusts in history result in cultural narratives," which in turn affect "how we must consider the process of memorializing and the static markers/icons of memory."
Encouraging International Linkages

Dr. Clemente's visit was organized by the Department of Sociology, Graduate School of Letters, Kyoto University via the Brain Circulation Program of the Japan Society for the Promotion of the Sciences. Her trip helped enriched the international linkages between Kyoto University's Graduate School of Letters and the UP Asian Center. And it opened up possibilities for future collaboration between the two institutions, especially under the UP Asian Center's membership in the Kyoto University Asian Studies Unit.

Dr. Tina Clemente is Associate Professor at the Asian Center, University of the Philippines Diliman. She handles several graduate courses at the UP Asian Center, including Social and Economic Development in China, Theories of Development, and Special Problems in Asian Studies, among others. She completed her Ph.D. in Economics from the School of Economics, University of the Philippines Diliman. View her full faculty profile.
---
The Asian Center offers M.A. degrees in Asian Studies with four fields of specialization: Northeast Asia, Southeast Asia, South Asia, and West Asia. The Center also has an M.A. program in Philippine Studies that allows students to major in Philippine society and culture, Philippine foreign relations, or Philippine development studies. The Center offers a Ph.D. program in Philippine Studies in conjunction with the College of Arts and Letters and the College of Social Sciences and Philosophy. For an overview of these graduate programs, click here. The Asian Center also publishes Asian Studies: Journal of Critical Perspectives on Asia, the latest issue of which can be downloaded at the journal's website. View recent and upcoming Lectures & Conferences and read other News & Announcements.Join our mailing list to receive invitations to lectures, conferences, etc.