REUBEN: A Life of Service to Art, Scholarship, & Philippine Culture | A Memorial @ UP Asian Center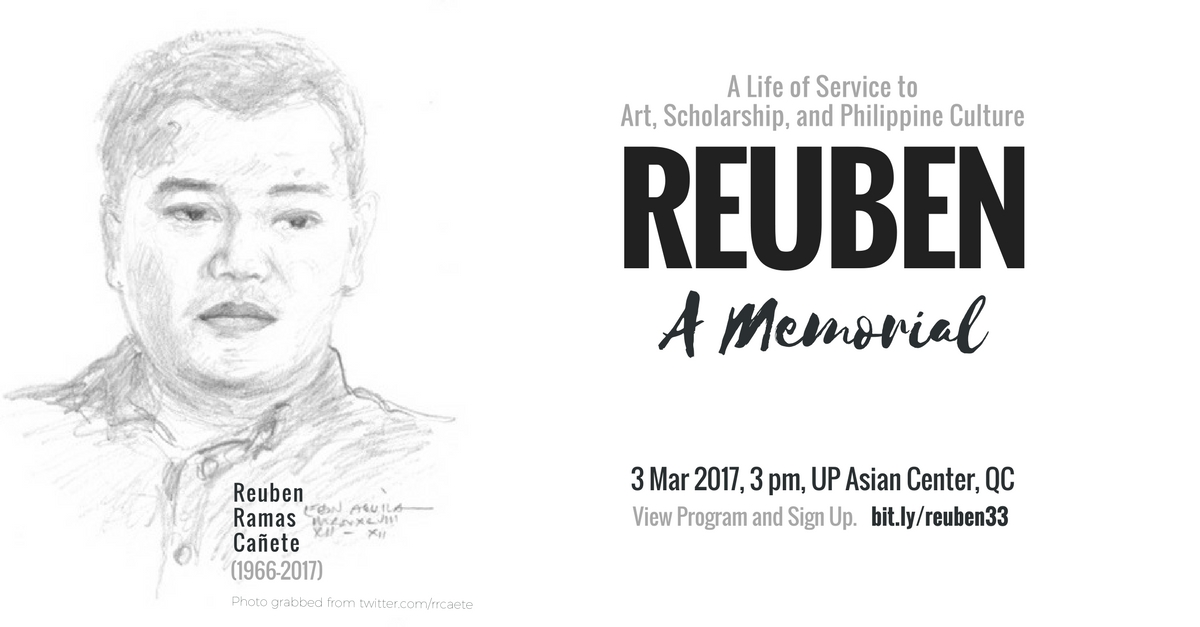 The UP Asian Center and the UPD Department of Art Studies will hold a memorial service for Professor Reuben Ramas Cañete on Friday, 3 March 2017, 3 pm onwards at the UP Asian Center, Diliman, Quezon City. The event is free and open to the public; friends, colleagues, and students past and present are welcome to attend, but are encouraged to sign up.  
TENTATIVE PROGRAM
Themed "REUBEN: A Life of Service to Art, Scholarship, and Philippine Culture," the memorial celebrates the life and scholarship of Dr. Reuben Ramas Cañete. Details of the program are being finalized, but an open mic session will be held to give everyone an opportunity to share their thoughts and memories of their friend, mentor, and/or colleague.  Dr. Cañete passed away on 17 February 2017 at the age of 50. VIEW POSTER/INVITATION. 
Guests are welcome to bring, for sharing, food and drinks for the open mic. 
PROFILE: REUBEN RAMAS CAÑETE
Professor Reuben Ramas Cañete had a Ph.D. in Philippine Studies from the University of the Philippines Diliman and specialized on political aesthetics and masculinity studies, among other fields,  and had a passion for the preservation and promotion of local artistic traditions in Cebu and Bulacan. Named UP Artist II and the author of numerous books, peer-reviewed articles, and essays, he was Assistant to the Dean for Research and Publications; editor of the journal, Humanities Diliman; and was a member of the Executive Council of the National Committee on Visual Arts, National Commission for Culture and the Arts from January 2014 to December 2016.
We encourage everyone to sign up, so the UP Asian Center can send you (any) updates regarding the program, time, date, and venue.
VENUE and VICINITY MAP
For directions, please view this vicinity map and a Google Street View map. Inquiries may be sent to  This email address is being protected from spambots. You need JavaScript enabled to view it. . 
---
The Asian Center offers M.A. degrees in Asian Studies with four fields of specialization: Northeast Asia, Southeast Asia, South Asia, and West Asia. The Center also has an M.A. program in Philippine Studies that allows students to major in Philippine society and culture, Philippine foreign relations, or Philippine development studies. The Center offers a Ph.D. program in Philippine Studies in conjunction with the College of Arts and Letters and the College of Social Sciences and Philosophy. For an overview of these graduate programs, click here. The Asian Center also publishes Asian Studies: Journal of Critical Perspectives on Asia, the latest issue of which can be downloaded at the journal's website. For other news and upcoming events at the Asian Center, click here.