AC Faculty, Staff Form Panel on F. Landa Jocano in 'UP Anthropology @ 100' Conference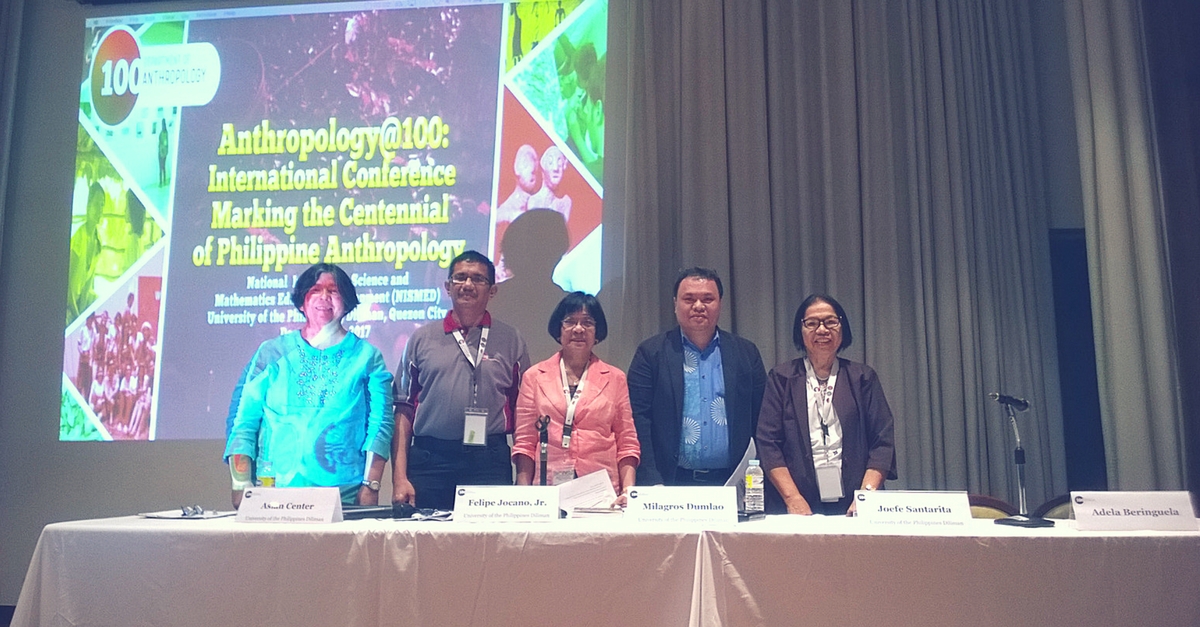 Photo (L–R): Dr. Ma. Cecilia Medina; Assistant Professor Felipe Jocano, Jr.; Milagros Dumlao; Dean Joefe Santarita; and Dr. Adela Beringuela.
---
Dean Dean Joefe B. Santarita and researchers past and present of the UP Asian Center delivered presentations on F. Landa Jocano at "UP Anthropology@100: International Conference Marking the Centennial of Philippine Anthropology," which was held from 1 to 2 December 2017 at the UP National Institute for Science and Mathematics Education Development, University of the Philippines Diliman.
ABOUT THE PANEL
Below is the abstract of their panel, "F. Landa Jocano and the Philippine Ethnographic Collection at UP Asian Center." The Asian Center delegation was joined by Felipe Jocano, Jr., Assistant Professor at the Department of Anthropology, University of the Philippines Diliman.
F. Landa Jocano, Professor Emeritus, is one of the country's foremost anthropologists.  He is widely known, here and abroad, for his numerous field studies and publications on Philippine folklore, pre-history, cultural communities, folk medicine and organizational culture.F. Landa Jocano taught at the University of the Philippines for nearly half a century.  He first joined the Department of Anthropology in l967 then moved to the Asian Center in 1973 as Professor of Philippine Studies. He served as Chairman of the UP Department of Anthropology, Director of Philippine Studies Program at the UP Asian Center, Dean of the UP Institute of Philippine Studies, and Head of Asian Center Museum Laboratory. As the head of the Asian Center Museum Laboratory, he spearheaded the collection of cultural materials and photographs of ethnic groups across the country for use in graduate studies primarily of scholars and students. As a classroom teacher and fieldwork supervisor, he is fondly remembered for teaching people-centered ways of doing social science research. He ensured the safety and security of everyone in the field even as he also cautioned them to be always careful and respectful of the norms and practices of the communities being studied. He passed on to his students the legacy of 'grounded theorizing' and 'reflexive ethnography'.
In this panel, two of the presenters are former research staff of FL Jocano whom he closely worked with. Milagros Dumlao will talk on the insights and experiences that she gained while working with FL Jocano in their various field researches elaborating on this 'reflexive ethnography'. Dr. Adela Beringuela, on the other hand, will attempt to relate this concept of 'grounded theorizing' through the publications that were produced by F. Landa Jocano through various field researches and as a result of the collection.
Dr. Joefe Santarita will present the collection of the ethnographic field research works of FL Jocano for the past four decades which are now stored at the Asian Center Museum.  Lastly, Felipe Jocano Jr. will make a critical appraisal of F. Landa Jocano. Moreover, the panel will recommend strategies in maximizing the use of the collection to advance knowledge production about Philippine society and culture as well as to preserve the legacy of FL Jocano and his contribution in nation building.
The panel was moderated by Dr. Ma. Cecilia Medina, Assistant Professor @ UP Asian Center.
INDIVIDUAL PRESENTATIONS
Field Research with FL Jocano: Insights and Experiences by Milagros B. Dumlao

F. Landa Jocano and the Asian Center's Museum Laboratory by Joefe B. Santarita

Offshoots of the Collection: Publications and Ethnographic Reports by Adela C. Beringuela

F. Landa Jocano: A Critical Appraisal by Felipe P. Jocano, Jr.
ABOUT F. LANDA JOCANO
Felipe Landa Jocano passed away on 27 October 2013 at the age of 83. He obtained his PhD in Social Anthropology at the University of Chicago in 1963. As one of the Philippines' foremost anthropologists, he played a significant role in developing and deepening the understanding of Philippine society, culture, and prehistory. At the time of his passing, he was Professor Emeritus of the UP Asian Center. 
Apart from articles that appeared in academic journals, including the Asian Center's Asian Studies, Dr. Jocano authored numerous books, including:
Filipino Prehistory: Rediscovering Precolonial Heritage

Filipino Social Organization: Traditional Kinship and Family Organization

Filipino Indigenous Ethnic Communities: Patterns, Variations, and Typologies

Filipino Worldview: Ethnography of Local Knowledge

Growing up in a Philippine Barrio

Sulod Society: A Study in the Kinship System and Social Organization of a Mountain People of Central Panay

Slum as a Way of Life
Professor Jocano received several awards for his achievements, including a National Science Award and Republic Cultural Heritage Award. He was inducted into the Philippine Legion of Honor in 2007 and given a rank of Grand Officer. 
---
The UP Asian Center offers M.A. degrees in Asian Studies with four fields of specialization: Northeast Asia, Southeast Asia, South Asia, and West Asia. The Center also has an M.A. program in Philippine Studies that allows students to major in Philippine society and culture, Philippine foreign relations, or Philippine development studies. The Center offers a Ph.D. program in Philippine Studies in conjunction with the College of Arts and Letters and the College of Social Sciences and Philosophy. Get an overview of these programs. The Asian Center also houses a peer-reviewed, open-access journal, Asian Studies: Journal of Critical Perspectives on Asia. It has published several books and monographs, and hosts or organizes various lectures and conferences.