Dr. Sevilla Discusses "China's New Silk Route Strategy and ASEAN" in Tehran Lecture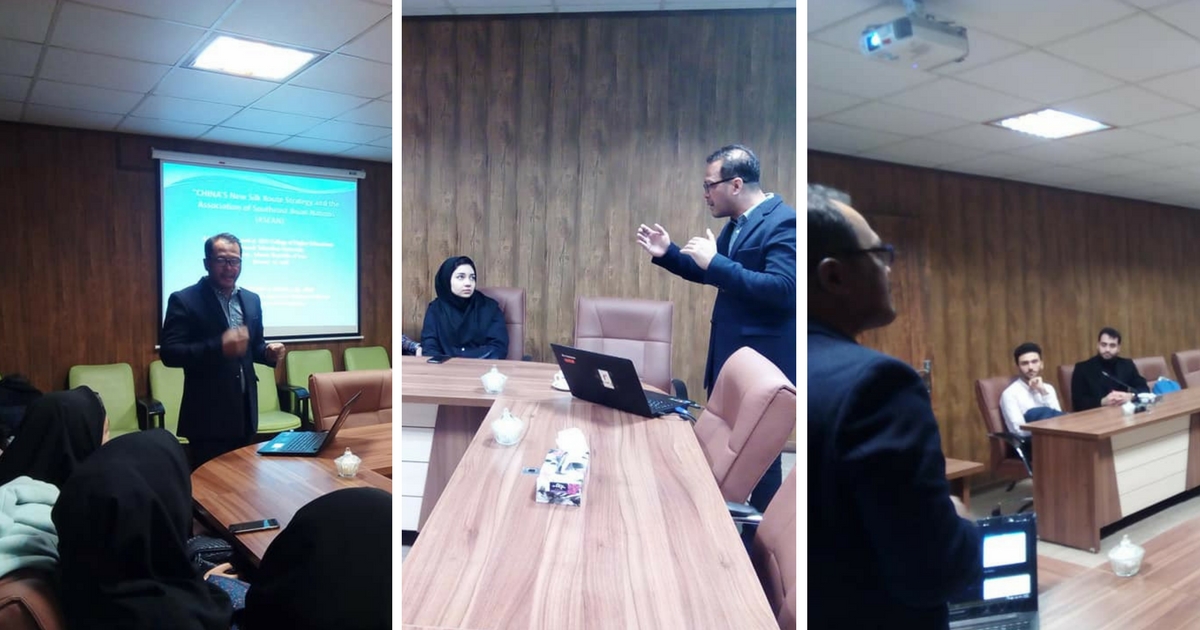 Photos: Dr. Sevilla in his lecture at Allamah Tabatabae University in Tehran
---
Dr. Henelito A. Sevilla of the UP Asian Center delivered a lecture, "China's New Silk Route Strategy and the Association of Southeast Asian Nations" on 17 January 2018 at the ECO College of Higher Education at Allamah Tabatabae University in Tehran in the Islamic Republic of Iran.
ABOUT the PRESENTATION
Dr. Sevilla evaluated the benefits and challenges that China's One Belt, One Road (now the Belt and Road Initiative) strategy may bring to Southeast Asia. He argues that China's regional and international expansion is a natural byproduct of its economic weight, and that the maritime Southeast Asian countries benefits from joining the One Belt, One Road project. However, he points out that the rate of gains the OBOR initiative will vary for each country given the different levels of economic growth and priorities of ASEAN member countries. Economically, ASEAN as a region is projected to benefit greatly from Chinese capital investment and construction technology, enabling the region to address job gaps and construct mega projects like the trans-ASEAN energy pipelines. The future of OBOR in the Southeast Asia will depend on how Southeast Asian countries prioritize their individual interests vis –a- vis regional interests and how China is able to convince skeptics that their presence begets nothing less that opportunities for growth in the region.
ABOUT the FACULTY
Dr. Henelito A. Sevilla, Jr. is Assistant Professor at the Asian Center, University of the Philippines Diliman and Assistant to the Dean for Administration and Public Affairs. He specializes in international relations, Mindanao studies, Philippine-Middle East Relations, political economy of the Middle East, energy security in Asia, Persian Gulf security and Middle Easterners in the Philippines. The coordinator of the West Asian Studies graduate program of the UP Asian Center, he handles several graduate courses such as Seminar on West Asia, Philippine Foreign Relations in Selected Countries in West Asia, and History and Development of Philippine Foreign Policy. Visit his faculty profile. 
---
The UP Asian Center offers M.A. degrees in Asian Studies with four fields of specialization: Northeast Asia, Southeast Asia, South Asia, and West Asia. The Center also has an M.A. program in Philippine Studies that allows students to major in Philippine society and culture, Philippine foreign relations, or Philippine development studies. The Center offers a Ph.D. program in Philippine Studies in conjunction with the College of Arts and Letters and the College of Social Sciences and Philosophy. Get an overview of these programs. The Asian Center also houses a peer-reviewed, open-access journal, Asian Studies: Journal of Critical Perspectives on Asia. It has published several books and monographs, and hosts or organizes various lectures and conferences.