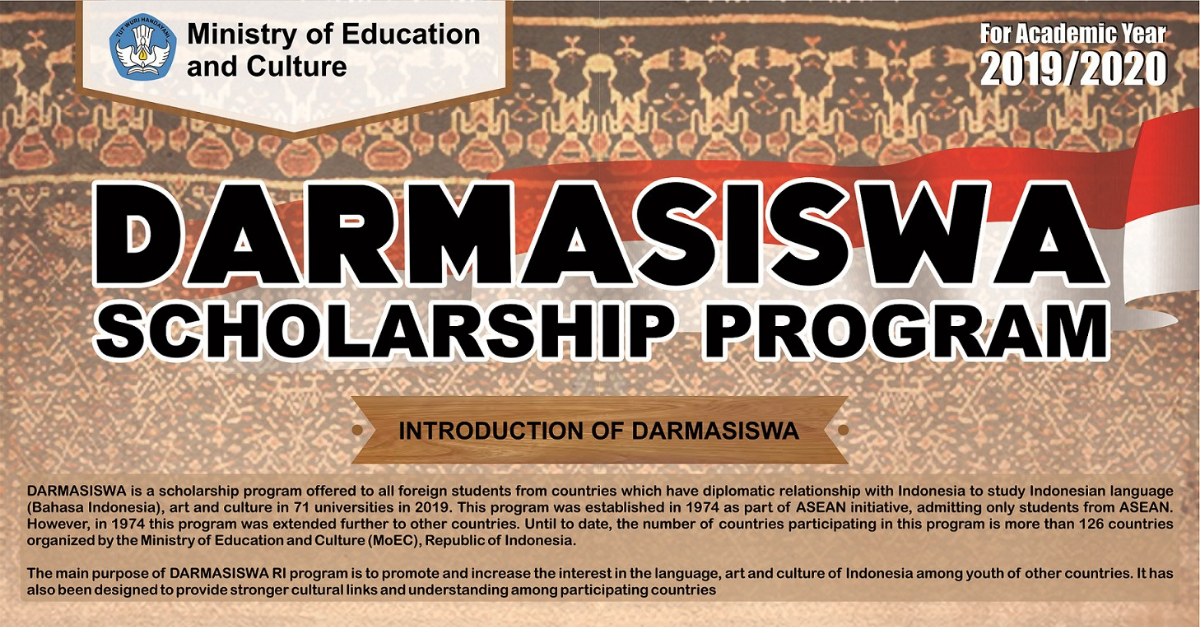 The Indonesian Ministry of Education & Culture Darmasiswa Scholarship Program is now accepting applications from Filipino students interested in studying Bahasa Indonesia and Indonesian culture in any of 71 participating universities in Indonesia this 2019. Deadline of applications is on 1 March 2019.
Interested applicants may visit the site of the Darmasiswa Indonesian Scholarship to view qualifications, requirements and coverage of the program.
APPLICATION PROCEDURE
Interested applicants must register to view and start the procedures for application.
IMPORTANT DATES
Online registration: 1 January – 1 March 2019
Interview at the Indonesian Embassy/Indonesian Consulate General: 4 – 15 March 2019
Selection by the University (online): 18 March – 3 April 2019
Announcement of successful applicants: 10 April 2019
Attendance confirmation: 10 – 30 April 2019
Final announcement of participating students: 6 May 2019
Flight itinerary confirmation: 7 May – 1 August 2019
Arrival in Jakarta, Indonesia: 28 August 2019
Orientation program: 29 – 30 August 2019
Please check the site from time to time, should there be any change on the schedule.
LIST OF UNIVERSITIES AND FIELD OF STUDY
Please view the list of participating universities and field of studies under the Darmasiswa Scholarship Program.
ABOUT THE PROGRAM
The Darmasiswa Scholarship Program is offered to students from countries "with diplomatic ties to Indonesia." The program aims to promote interest in the Indonesian language, arts, and culture among the youth.
INQUIRIES
For queries and other information, please visit the official page of the Darmasiswa Scholarship Program.