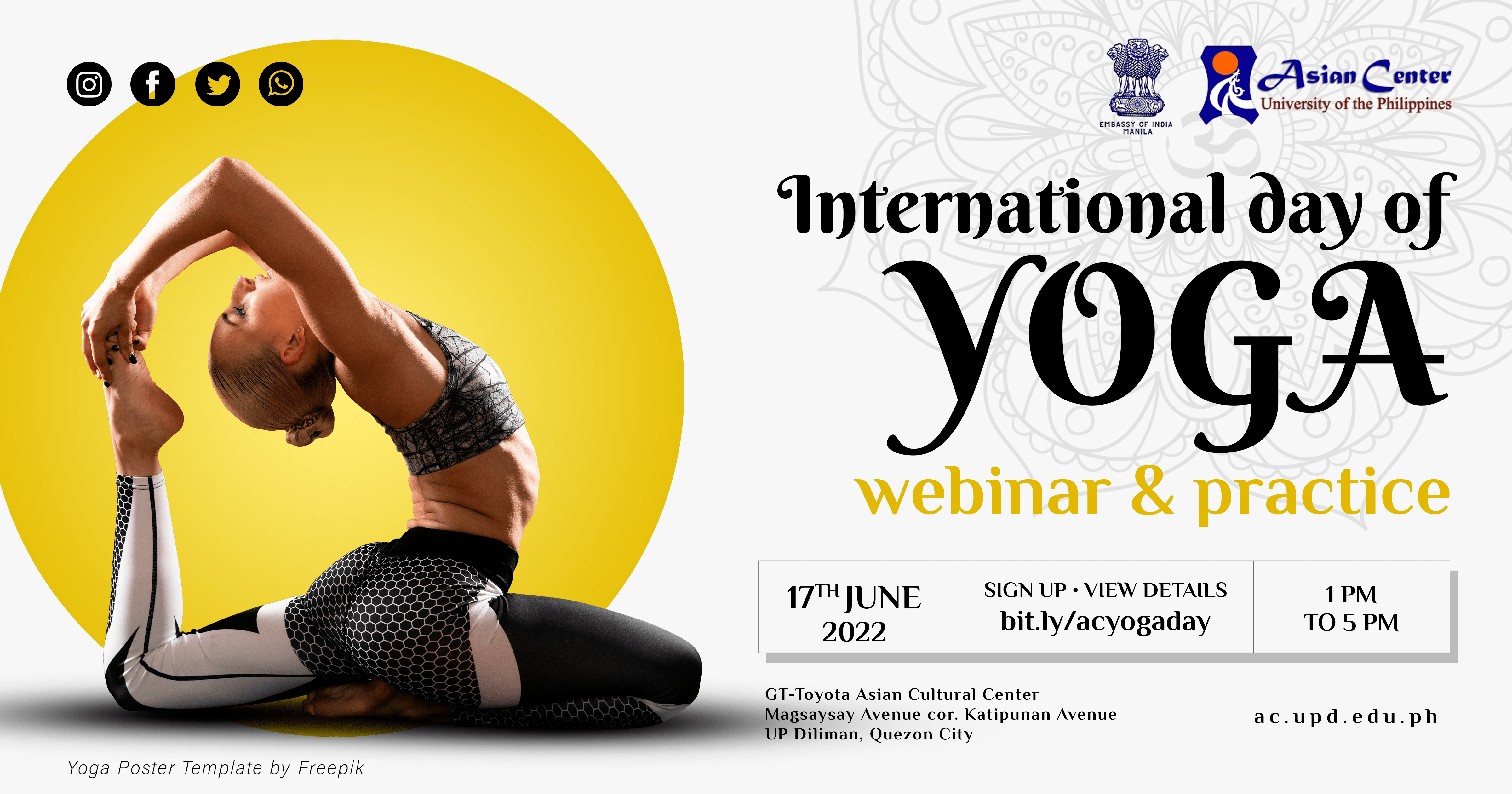 The UP Asian Center and the Embassy of India, Manila will be holding a hybrid seminar to celebrate the "International Day of Yoga 2022" on 17 June 2022, 1:00 pm to 5:00 pm, Philippine Standard Time (GMT+8), at the GT-Toyota, Asian Center, and via Zoom. The event is free and open to the public. Registration to Zoom is required for online attendees. Online registration is also REQUIRED for on-site attendees. Seating is first-come, first-served.

ABOUT THE INTERNATIONAL DAY OF YOGA
This 2022, the UP Asian Center is one with the international community to celebrate the International Day of Yoga with the theme Yoga for Humanity. This year's theme emphasizes the significant role yoga plays to address the different physical, mental, and psychosocial health problems due to the Covid-19 pandemic. Yoga is seen as an "important instrument in the collective quest of humanity for promoting sustainable lifestyle in harmony with the planet… The International Day of Yoga aims to raise awareness worldwide of the many benefits of practicing yoga" (United Nations 2022).
Why do we celebrate it?
In 2014, the United Nations proclaimed 21 June as the International Day of Yoga by resolution 69/131 endorsed by a record 175 UN member states. It was proposed by the then Prime Minister Narendra Modi during the opening of the 69th session of the General Assembly where he said, "Yoga is an invaluable gift of India's ancient tradition. It embodies unity of mind and body; thought and action; restraint and fulfillment; harmony between man and nature; a holistic approach to health and well-being. It is not about exercise but to discover the sense of oneness with yourself, the world and the nature. By changing our lifestyle and creating consciousness, it can help in well-being. Let us work towards adopting an International Yoga Day" (Business Standard n.d.).
In line with this, the World Health Organization has also urged its member states to help their citizens reduce physical inactivity, which is among the top ten leading causes of death worldwide, and a key risk factor for non-communicable diseases, such as cardiovascular diseases, cancer, and diabetes.
WHAT IS YOGA?
Yoga is an ancient practice and discipline that aims to unite, bring harmony, and deepen the connection between one's mind, body, emotion, and energy. A technology for inner well-being, yoga seeks to achieve a sense of spiritual awakening by harmonizing one's self with the universe (Basavaraddi 2015).
Yoga is rooted from Indian philosophy. The term was derived from the Sanskrit root yuj, which means "to yoke" or "union" (Basavaraddi 2015; National Center for Complementary and Integrative Health (NCCIH) n.d.). Historical evidences show that yoga has been existing since the Indic Civilization (Bhavanani n.d.), and its practice has been passed down from spiritual teachers (guru) to disciples since the ancient times (Bira n.d.). Yoga started to rise in popularity when it was recognized and acknowledged in the West in 19th century (Bhavanani n.d.). Today, it puts more emphasis on its health benefits and the inner workings of the mind (Bira n.d.).
---
ABOUT THE SPEAKERS
Ambassador Shambhu S. Kumaran currently serves as the Ambassador of India to the Philippines, Republic of Palau, and Federated States of Micronesia. His diplomatic assignments abroad include postings in Frankfurt and Berlin (1997-2002), as Political Counsellor in Kathmandu (2007-2009) and as Deputy High Commissioner to South Africa (2009-2012). He was also the Ambassador of India to the Kingdom of Morocco from June 2019 to July 2020. He joined the Indian Foreign Service in 1995. From 2012-2016, Ambassador Kumaran was Director (East Asia/China), Joint Secretary (Establishment) and Joint Secretary (Eurasia) in the MEA. In January 2016 to May 2019, he was on deputation to the Ministry of Defense as Joint Secretary (Planning and International Cooperation). Ambassador Kumaran holds a Bachelor's Degree in English Literature from Kerala University, an MA in International Studies, and a Master of Philosophy in Diplomatic Studies from Jawaharlal Nehru University, New Delhi.
Ayn Latonio was a nurse by profession for more than 10 years. Currently, he is a yoga teacher in various studios in his hometown, Cebu City, Philippines. He has awarded multiple yoga certifications from different yoga institutions in Southeast Asia and India such as the Vinyasa Yoga School, Rishikesh, India; Gokul Yoga, Kota Kinabalu, Malaysia; Srivatsa Ramaswami School of Yoga, Chennai India; and Krishnamacharya Yoga Mandiram. Mr. Latonio specializes in Classical Hatha, Vinyasa Yoga, Vinyasa Krama Yoga, Gokul Yoga, and Pranayama. According to Ayn, he studied yoga due to its uncanny resemblance with his nursing profession practice.
---
INSTRUCTOR
Janice Cuevas is an HR Consultant by profession, yoga practitioner and teacher by passion, and a volunteer for kids battling cancer by heart. She is a certified Ashtanga Vinyasa, Yin and Trauma-Informed Yoga Teacher. She aims to empower fellow practitioners and share the gift of yoga to different communities. She has been teaching yoga to kids, moms and dads, elderlies, PWDs, and employees from different industries since 2019.
Janice is also an active volunteer leader at the Kythe Foundation. It is a non-profit organization that provides psychosocial support for kids and families battling cancer. She often conducts yoga, breathing, and meditation classes for self-care, stress release, and healing.
---
ABOUT THE ORGANIZERS
This event is organized by the UP Asian Center and the Embassy of India, Manila.
---
REFERENCES
Basavaraddi, Ishwar V. 2015. Yoga: Its Origin, History and Development. Ministry of External Affairs, Government of India, 23 April. https://mea.gov.in/in-focus-article.htm?25096/Yoga+Its+Origin+History+and+Development
Bhavanani, Meenakshi Devi. n.d. The History of Yoga from Ancient to Modern Times. International Center for Yoga Education and Research (ICYER). http://icyer.com/documents/The%20History%20of%20Yoga%20From%20Ancient-by%20Amma%20new.pdf
Bira. n.d. The Origin of Yoga and History of Yoga: A Brief Glance. YogaApproved. https://www.yogiapproved.com/origin-of-yoga-history-of-yoga/
Business Standard. n.d. "When is International Yoga Day." https://www.business-standard.com/about/when-is-international-yoga-day.
Isha Foundation. n.d. What is Yoga? The Original Meaning of Yoga. https://isha.sadhguru.org/yoga/new-to-yoga/what-is-yoga/
National Center for Complementary and Integrative Health (NCCIH). n.d. Yoga: What You Need to Know. https://www.nccih.nih.gov/health/yoga-what-you-need-to-know
United Nations. 2022. "International Day of Yoga." https://www.un.org/en/observances/yoga-day.
---
The Asian Center, University of the Philippines Diliman offers M.A. degrees in Asian Studies with four fields of specialization: Northeast Asia, Southeast Asia, South Asia, and West Asia. The UP Asian Center also has an M.A. program in Philippine Studies that allows students to major in Philippine society and culture, Philippine foreign relations, or Philippine development studies. It also offers a Ph.D. program in Philippine Studies in conjunction with the College of Arts and Letters and the College of Social Sciences and Philosophy. For an overview of these graduate programs, click here. As an area studies institution, the Asian Center also publishes Asian Studies: Journal of Critical Perspectives on Asia, the latest issue of which can be downloaded at the journal's website.