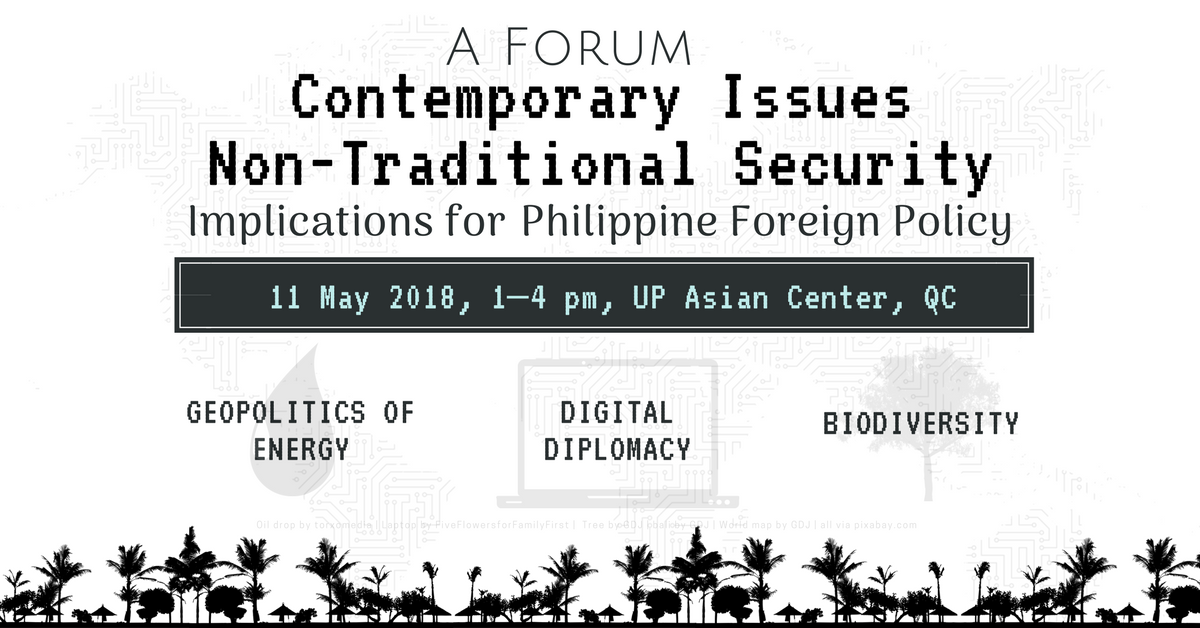 ---
The UP Asian Center will host a forum, Contemporary Issues in Non-Traditional Security: Implications for Philippine Foreign Policy, on 11 May 2018, 1 pm–4 pm, at the Seminar Room, UP Asian Center, QC. The forum is free and open to the public; seating is first-come, first-served, but participants are requested to sign up.
International relations has traditionally focused on the state, but equally vital are non-traditional security issues, many of which do not directly involve the state, and have thus received relatively less attention than state-centric analyses. This despite their importance for international relations, not least the survival of states themselves and their peoples.
In this forum, four speakers will sketch an overview of three non-traditional security issues:
DIGITAL DIPLOMACY
"Diplomacy Goes Digital" by Stacy Danika Alcantara (Foreign Service Officer, Department of Foreign Affairs, Philippines)


"Going Beyond Public Diplomacy: Digital Diplomacy in a Hyper-Connected World" by Virgemarie Salazar (Senior Foreign Affairs Research Specialist, Foreign Service Institute, Philippines)
GEOPOLITICS OF ENERGY
"Geopolitics and the Implications of North Korea's Nuclear Power" by Clarita Carlos, PhD (Department of Political Science, UP Diliman)
BIODIVERSITY
Xavier Canton-Lamousse (EU Delegation to the Philippines)
The forum aims to present an analytical approach to each subject matter and discuss its possible implications to Philippine foreign policy, if any; and provide recommendations for future plans concerning these critical issues for the academe, the government, and the general public.
The forum is organized by the students of Philippine Studies (PS) 264 taught this semester by Dr. Henelito Sevilla, Jr., Assistant Professor and Assistant to the Dean for Administration and Public Affairs. PS 264 is a seminar course that examines Philippine external relations.
VENUE and VICINITY MAP
• EMAIL:
This email address is being protected from spambots. You need JavaScript enabled to view it.
OTHER UPCOMING EVENTS @ UP ASIAN CENTER
---
The Asian Center offers M.A. degrees in Asian Studies with four fields of specialization: Northeast Asia, Southeast Asia, South Asia, and West Asia. The Center also has an M.A. program in Philippine Studies that allows students to major in Philippine society and culture, Philippine foreign relations, or Philippine development studies. The Center offers a Ph.D. program in Philippine Studies in conjunction with the College of Arts and Letters and the College of Social Sciences and Philosophy. For an overview of these graduate programs, click here. The Asian Center also publishes Asian Studies: Journal of Critical Perspectives on Asia, the latest issue of which can be downloaded at the journal's website. For other news and upcoming events at the Asian Center, click here.