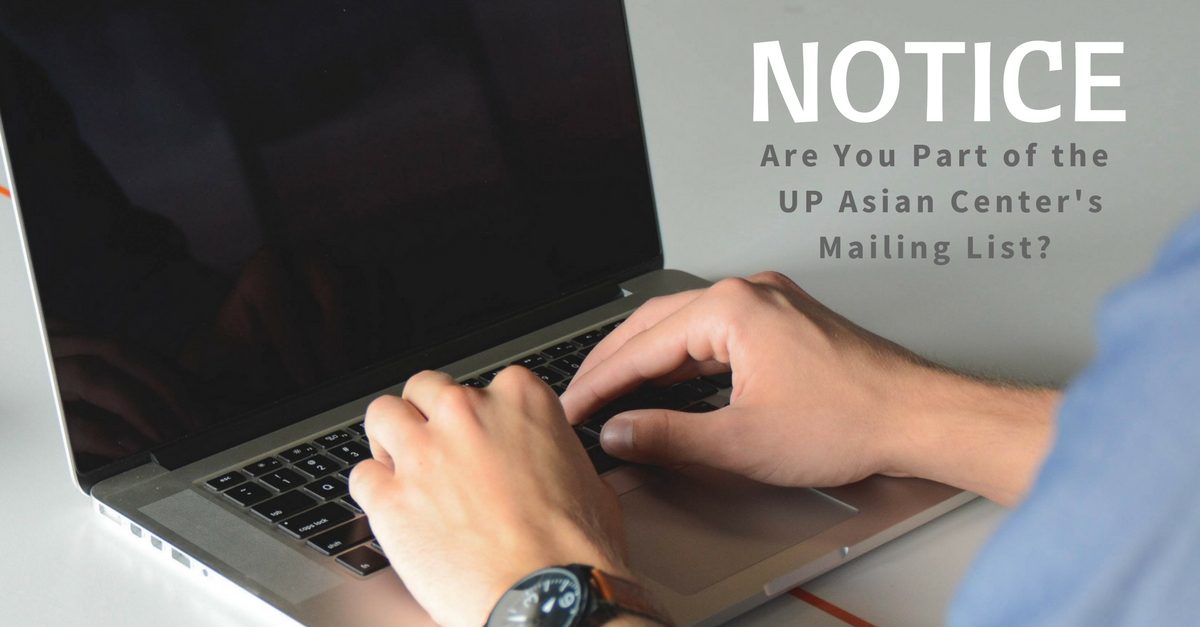 The email addresses of members of the UP Asian Center's general mailing list—who have subscribed thereto and/or had attended previous events at the UP Asian Center— are added to the UP Asian Center's Google Group.
COMPLIANCE WITH GMAIL RECOMMENDATIONS
STORAGE
Your names/email addresses are stored within a Google Forms/Sheets file within the official Google Drive account of the UP Asian Center. If you subscribe to the mailing list, you will receive an email, one informing you of the inclusion of your email address in the group.
ON PRIVACY and PURPOSE OF THE GROUP
In compliance with the Data Privacy Act of the Philippines, this Google Group will only be used to send you email invitations; it WILL NOT/CANNOT be used by fellow members to communicate with each other. The Google Group is also in a private domain, and can only be seen by the UP Asian Center Information Office, and by default, the eUP Database administrators. Needless to say, your names and email addresses WILL NOT/CANNOT be seen by fellow members.
At the same time, kindly note that the Google Group cannot be used to contact the UP Asian Center. All inquiries thereto are to be sent by phone or email to our various offices (
VIEW DIRECTORY
).
PRIVACY POLICY AND DATA SUBJECT RIGHTS
The UP Asian Center processes information in accordance with the University of the Philippines' Privacy Policy. View Data Subject Rights and Responsibilities. To learn more about the University's privacy policies, kindly visit UP's Data Privacy Portal.
REMINDERS and REQUESTS: ENSURING YOU RECEIVE OUR EMAILS
For some Gmail users, some of our email invitations may enter, not your "Primary" Tab (main inbox), but your "Promotions" or "Forums" tab, where you may not readily see them. (This won't occur of course if you had not activated this Gmail inbox feature).
If you did activate it, you can simply go to your "Promotions" or "Forums" tab regularly to see our emails. But if you'd like to get them straight into your Primary Tab (which would be highly appreciated), you may do the following:
It also wouldn't hurt to check your spam folder as well. If ever our emails do land there, please do mark them as "Not Spam." Another way to keep us from being dropped into the spam folder is to add
This email address is being protected from spambots. You need JavaScript enabled to view it.
to your contact list.
(UN)SUBSCRIBE
If you no longer wish to receive email invitations from the UP Asian Center and/or be part of the Group, please email
This email address is being protected from spambots. You need JavaScript enabled to view it.
or
fill out this form
to confirm your wish to unsubscribe.
INQUIRIES
For questions and clarifications, please email
This email address is being protected from spambots. You need JavaScript enabled to view it.
or call 981.8500 local 3586.
First created 17 January 2017
Last updated 12 March 2019
---
The Asian Center offers M.A. degrees in Asian Studies with four fields of specialization: Northeast Asia, Southeast Asia, South Asia, and West Asia. The Center also has an M.A. program in Philippine Studies that allows students to major in Philippine society and culture, Philippine foreign relations, or Philippine development studies. The Center offers a Ph.D. program in Philippine Studies in conjunction with the College of Arts and Letters and the College of Social Sciences and Philosophy. Get an
overview
of these graduate programs. The Asian Center also publishes an open-access, peer-reviewed journal,
Asian Studies: Journal of Critical Perspectives on Asia.