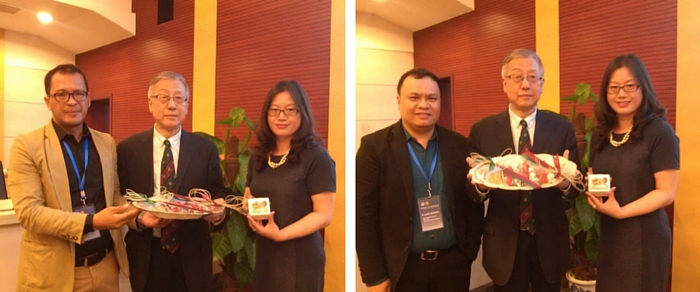 Dr. Sevilla (L in left photo) and Dean Santarita receiving their tokens of appreciation during the conference in Shanghai. Photos courtesy of Dr. Sevilla. 
---
Two faculty and officials of the UP Asian Center delivered two paper presentations at the Conference on Synergizing China's 'Belt and Road' Initiative with ASEAN Community Development Strategies, which was held from 27 to 28 June 2016, Fudan University, Shanghai, China.
Dean Joefe B. Santarita gave his presentation, "ASEAN-China Blue Economy Partnerships in the South China Sea" in Session 6, "The 21st-Century Maritime Silk Road and ASEAN-China Maritime Cooperation." In his paper, he identifies "China-ASEAN's recent engagements" in developing a sustainable "blue economy" in the South China Sea, identifying "collaborative programs and activities" on "food security; promotion of sustainable marine development; and management, as well as the creation of wealth-generating opportunities based on inclusive, oceans-based economic growth. He also takes a look at the "role of China and ASEAN business industrial sectors" in complementing government initiatives to "manage both fisheries and nonliving sea resources."
Dr. Henelito A. Sevilla, Jr. presented "China's New Silk Route Strategy: Its Political and Economic Implications for ASEAN Countries" in the session, "Belt and Road Initiative and Regional Public Goods Supply." Dr. Sevilla writes that proposals for the New Silk Route will help China "guarantee not only a stable energy supply from the Middle East and Central Asia but also access to the markets of Southeast Asian countries." He argues that "...given the financial constraints facing many ASEAN member states in realizing its visions for the ASEAN Economic Community," among others, China's One Belt, One Road and New Silk Route Initiatives will help expedite the building of infrastructure that ASEAN states need.
The conference was organized by the Center for China's Relations with Neighboring Countries (CCRNC), Fudan University; Asia Research Center, Fudan University; and the Fudan Development Institute (Major Program: China and World).  
Dean Santarita specializes in Indian studies, migration studies, Philippine culture and society, maritime history and Southeast Asian political economy. Dr. Santarita, who obtained his Ph.D. in South Asian Studies from the National University of Singapore, handles several graduate courses at the UP Asian Center, including those on Regionalism and Community Building in Asia, Modern Asia, and Asia in Antiquity, among others. Visit his faculty profile.


Dr. Henelito A. Sevilla, Jr. is Assistant Professor at the Asian Center, University of the Philippines Diliman and Assistant to the Dean for Administration and Public Affairs. He specializes in international relations, Mindanao studies, Philippine-Middle East Relations, political economy of the Middle East, energy security in Asia, Persian Gulf security and Middle Easterners in the Philippines. The coordinator of the West Asian Studies graduate program of the UP Asian Center, he handles several graduate courses such as Seminar on West Asia, Philippine Foreign Relations in Selected Countries in West Asia, and History and Development of Philippine Foreign Policy. Visit his faculty profile. 
---
The Asian Center offers M.A. degrees in Asian Studies with four fields of specialization: Northeast Asia, Southeast Asia, South Asia, and West Asia. The Center also has an M.A. program in Philippine Studies that allows students to major in Philippine society and culture, Philippine foreign relations, or Philippine development studies. The Center offers a Ph.D. program in Philippine Studies in conjunction with the College of Arts and Letters and the College of Social Sciences and Philosophy. For an overview of these graduate programs, click 
here
. The Asian Center also publishes Asian Studies: Journal of Critical Perspectives on Asia, the latest issue of which can be downloaded 
at
 the journal's website
. For other news and upcoming events at the Asian Center, click 
here
.