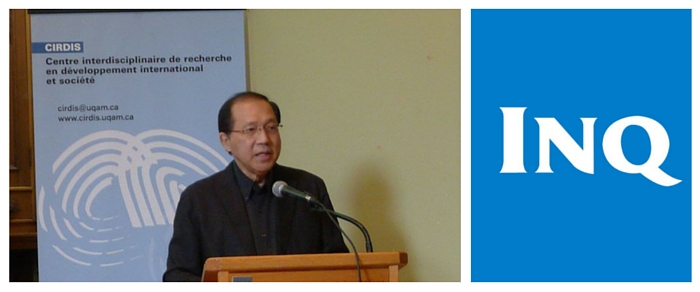 Left: Dr. Eduardo Tadem in a Montreal conference in October 2015. Courtesy of Dr. Tadem. Right: Inquirer logo.
---
Dr. Eduardo C. Tadem of the UP Asian Center penned a new commentary, "Inequality, Debt, and Tax Injustice" for the Talk of the Town section of the Philippine Daily Inquirer. In the essay published on 6 March 2016, Dr. Tadem argues that "the candidates have ignored three important issues that have a direct bearing on the well-being of the majority of Filipinos," namely inequality, debt, and tax injustice. Below are some excerpts from the piece. 
Inequality
"Within the Association of Southeast Asian Nations (Asean), the Philippines registered the highest inequality ratio as of 2011 based on the Gini coefficient index. An Asian Institute of Management finding on the Philippine social pyramid reveals that only 0.1 percent of Filipino families or 21,700 families constitutes the upper class with per capita incomes of more than P700,000 per year. The rest or 99.9 percent (18.7 million families) make up the middle and lower classes of society."
Debt
"The debt service for 2015 was P775.826 billion or P2.126 billion per day and each Filipino was indebted to the tune of P58,608.

In addition, the public sector debt was P7.434 trillion or 58.80 percent of GDP. Public sector debt in 2014 was 13.17 percent higher than the 2010 figure, when Benigno Aquino III took over as President. The Aquino regime has actually become the biggest borrower among post-Edsa Presidents with total borrowings of P4.24 trillion from 2010 to 2014."
Tax Injustice
"The third important issue disregarded by the current crop of candidates is the absence of tax justice. While the poor are burdened with various indirect and direct forms of taxes, the rich and powerful are able to get away with creative means of tax evasions or huge deductions."
Dr. Eduardo Tadem specializes in rural development, agrarian reform, and the peasantry, among other topics. The editor in chief of Asian Studies: Journal of Critical Perspectives on Asia, he handles graduate courses on Southeast Asia and on Theories and Perspectives in Asian Studies. His most recent publication is "Technocracy and the Peasantry: Martial Law Development Paradigms and Philippine Agrarian Reform," 2015. Journal of Contemporary Asia, Vol. 45. No.3.  He has a PhD in Southeast Asian Studies from the National University of Singapore. Visit his faculty profile here. 
---
The UP Asian Center offers M.A. degrees in Asian Studies with four fields of specialization: Northeast Asia, Southeast Asia, South Asia, and West Asia. The Center also has an M.A. program in Philippine Studies that allows students to major in Philippine society and culture, Philippine foreign relations, or Philippine development studies. The Center offers a Ph.D. program in Philippine Studies in conjunction with the College of Arts and Letters and the College of Social Sciences and Philosophy. Get an overview of these programs. The Asian Center also houses a peer-reviewed, open-access journal, Asian Studies: Journal of Critical Perspectives on Asia. It has published several books and monographs, and hosts or organizes various lectures and conferences.