Students, faculty and alumni of the UP Asian Center presented their studies at the 3rd Southeast Asian Studies in Asia (SEASIA) Conference held on 5-7 December 2019 at Academia Sinica, Taipei, Taiwan. The conference featured 91 panels across 11 themes, which centered on historical continuities, international relations, culture, communications, migration, and environmental justice, among others.
For the "love of man, adding our little glory?": Filipino revolutionary memory in the Cold War
Rolando Talampas, Associate Professor
Hedging Strategies: A Comparative Analysis of the Philippines and Singapore Models
Monica Villa Abrille, MA Student

Illustrated Identities: Exploring Discourses on Nation, History, and Identity in Selected Southeast Asian Graphic Novels
Ace Vincent Molo, MA Student

Jollibee, the Filipino Diaspora, and Gastrodiplomacy in Southeast Asia: An Exploratory Study
Bryan Gabriel Ugaddan, MA Student

The Practice of Diplomacy Following The Sister-City Concept Among Philippine And Taiwanese Cities
Princess Fame Pascua, Tri-College Student

Collective? Negotiation? Agreement? Analyzing the Alliance of Kilusang Mayo Uno and Nagkaisa Labor Coalition
Jervy Briones, MA Student

Humanizing the Streets: Towards Adopting a Cultural Studies Framework in the Policy-making Regarding Street Vendors
Virna Liza Guano, MA Student
A Study on the Comprehensive Land Use Planning (CLUP) of the Philippines: Mapping the Socio-Economic Resources of the Philippines
Rebecca Verzola, MA Student

From Mountains To Metro: Indigenous Peoples Movement Through World Music
Karol Notob, MA Student
Post-colonial Understanding in Sports: The case of Filipino and Their Love for Basketball
Jonald Bagasina, MA Student

Subaltern Resistance and Pastoral Theme In Art: A Visual Analysis On The Relief Of The Santo Tomas De Villanueva's Church Façade In Miagao, Iloilo, Philippines
Elgin Salomon, MA Student
(Ba)balik-ba 'yan?: Identity Formation and Socio-Cultural Experiences of Filipino Youth Migrants from Middle Eastern Countries and their Return to the Philippines
Mariam Agonos, MA Student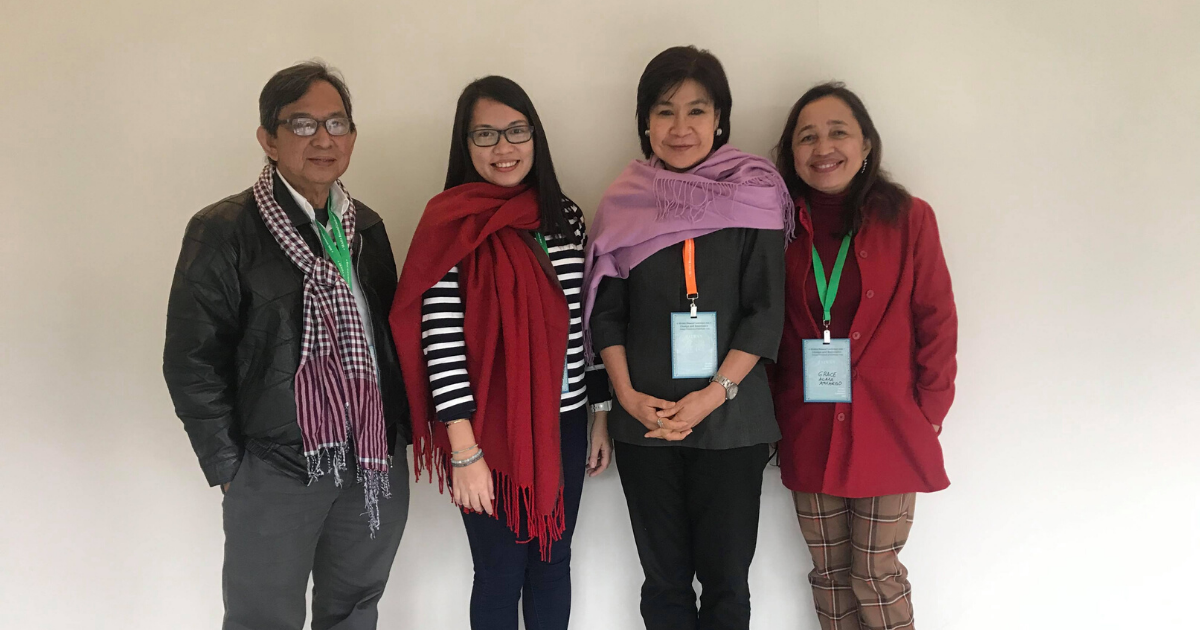 Inter-Cultural Encounters of Filipino Pre-service Teachers in Thailand
Elias Geronimo, MA Student

Filipinos' Social Distance from the Chinese, Indians, and Muslims in the City of Manila
Czekaina Rapanot, MA Student
Corruption and the Politico-Economic Race between Vietnam and Philippines
Ivy Galvan, MA Student

(Dis)engaging the State through Women's Organizing: The Impact of Post-EDSA Politics on Gender and Development
Christiana Despi, MA Student
Assessing Cybersecurity Regimes in Southeast Asia
Grace Amargo, MA Student
Crossing Gender Boundaries: Contemporary Southeast Asian Queer-Themed Narratives in English
Christopher Wright
"Mutya ng Pasig": Image of Continuity and Change in Philippine Arts and Culture
Grace Odal-Devora, Alumni
The "People Power" People Power Monument of the Philippines
Gil Turingan, Alumni

Constructing Masculinity: Male and Female Representations in the K-to-12 Philippine, Asian, and World History Learner's Modules
Andres Brenson, Alumni

Hegemonic Masculinity and Misogyny: Articulations of Masculinities and Support for the Philippine President in Social Media
Alleson II Villota, Alumni
ABOUT THE CONFERENCE
The SEASIA Biennial Conference 2019 is organized by the Center for Southeast Asian Studies (CSEAS), National Chengchi University and the Center For Asia-Pacific Studies (Research Center For Humanities And Social Sciences), Academia Sinica in Taiwan, and the Center for Southeast Asian Studies (CSEAS) in Kyoto University, Japan. Members of the Consortium of the Southeast Asian Studies in Asia, including the UP Asian Center, are co-organizers of the event. Dr. Antoinette Raquiza, Associate Professor, is a member of the governing board of the Consortium.
View full panel details and titles of paper presentations here.
---
The Asian Center offers M.A. degrees in Asian Studies with four fields of specialization: Northeast Asia, Southeast Asia, South Asia, and West Asia. The Center also has an M.A. program in Philippine Studies that allows students to major in Philippine society and culture, Philippine foreign relations, or Philippine development studies. The Center offers a Ph.D. program in Philippine Studies in conjunction with the College of Arts and Letters and the College of Social Sciences and Philosophy. For an overview of these graduate programs, click here. The Asian Center also publishes Asian Studies: Journal of Critical Perspectives on Asia, the latest issue of which can be downloaded at the journal's website. For other news and upcoming events at the Asian Center, click here.