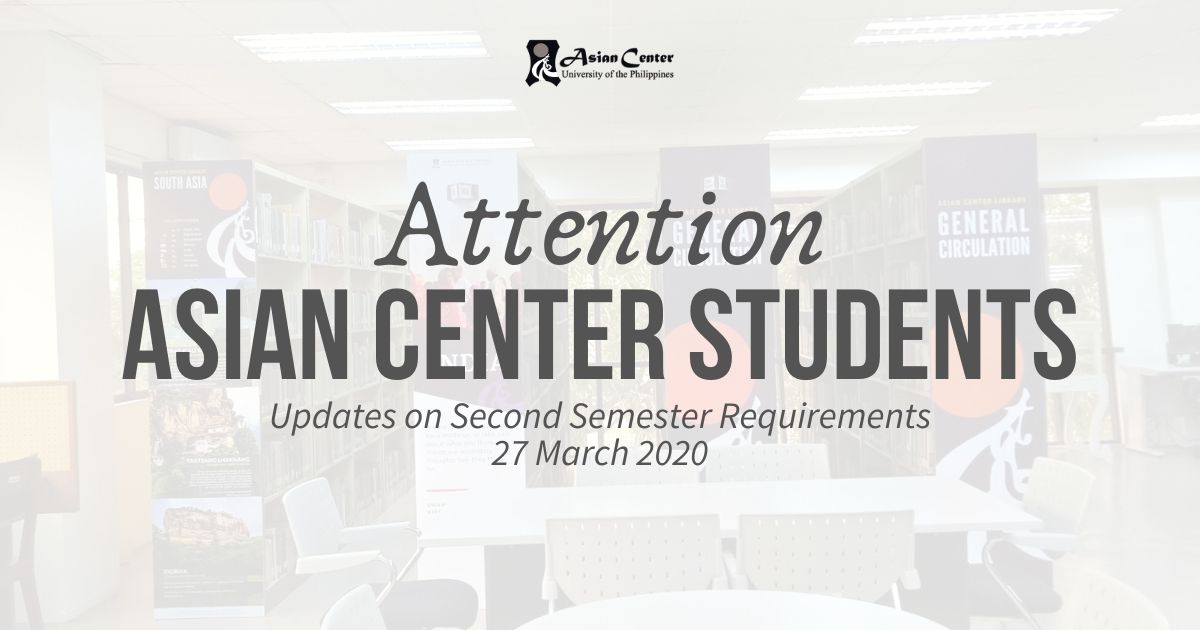 Dear Asian Center Students,
The Office of the Vice Chancellor for Academic Affairs, University of the Philippines Diliman has issued a memorandum that discusses, as of 27 March 2020, updates regarding classes, academic deadlines, and upcoming decisions on how the university will proceed with the second semester.
We would like to ask you to fill out this Google Form as an acknowledgment. It's also an avenue for you to pose your concerns. Please leave your name and email address as well so we can get back to you. Feel free of course to get in touch with your professor and/or the Office of the College Secretary.
Here is the main text of the memo in full, signed by Dr. Evangeline Amor, Vice Chancellor for Academic Affairs, University of the Philippines Diliman.
****
As we enter our 3rd week of enhanced community quarantine (ECQ),we would like to remind our students and faculty of the following:
UP Diliman's COVID-19 advisory page can be viewed at https://upd.edu.ph/covid/19/advisory/
All academic activities such as online classes, alternative modes of learning, submission of requirements are suspended until 14 April 2020 per the Chancellor's message to the UP Diliman Community dated 17 March 2020, OVPAA MEMOs 2020-38 and 2020-29, and OVCAA Memos ECA 20-580 and 20-582.
All academic deadlines such as dropping, LOA, and payments of tuition fees are suspended.
The OUR will propose necessary adjustments to deadlines of academic activities in the academic calendar.
The OVCAA and OUR will propose necessary changes in academic rules in light of COVID-19.
The University is considering options on how to move forward with the Second Semester AY 2019-2020. Final guidelines will be issued before the end of the UPD suspension period.
Mass promotion (i.e., giving a grade of pass to all students, regardless of standing) is not considered as an option at this time.
Thank you very much. Keep safe, everyone.
**
Only UP Asian Center students are asked to acknowledge receipt of memo by filling out the form below. They can also use it to send any questions.
---
The Asian Center offers M.A. degrees in Asian Studies with four fields of specialization: Northeast Asia, Southeast Asia, South Asia, and West Asia. The Center also has an M.A. program in Philippine Studies that allows students to major in Philippine society and culture, Philippine foreign relations, or Philippine development studies. The Center offers a Ph.D. program in Philippine Studies in conjunction with the College of Arts and Letters and the College of Social Sciences and Philosophy. For an overview of these graduate programs, click here. The Asian Center also publishes Asian Studies: Journal of Critical Perspectives on Asia, the latest issue of which can be downloaded at the journal's website.