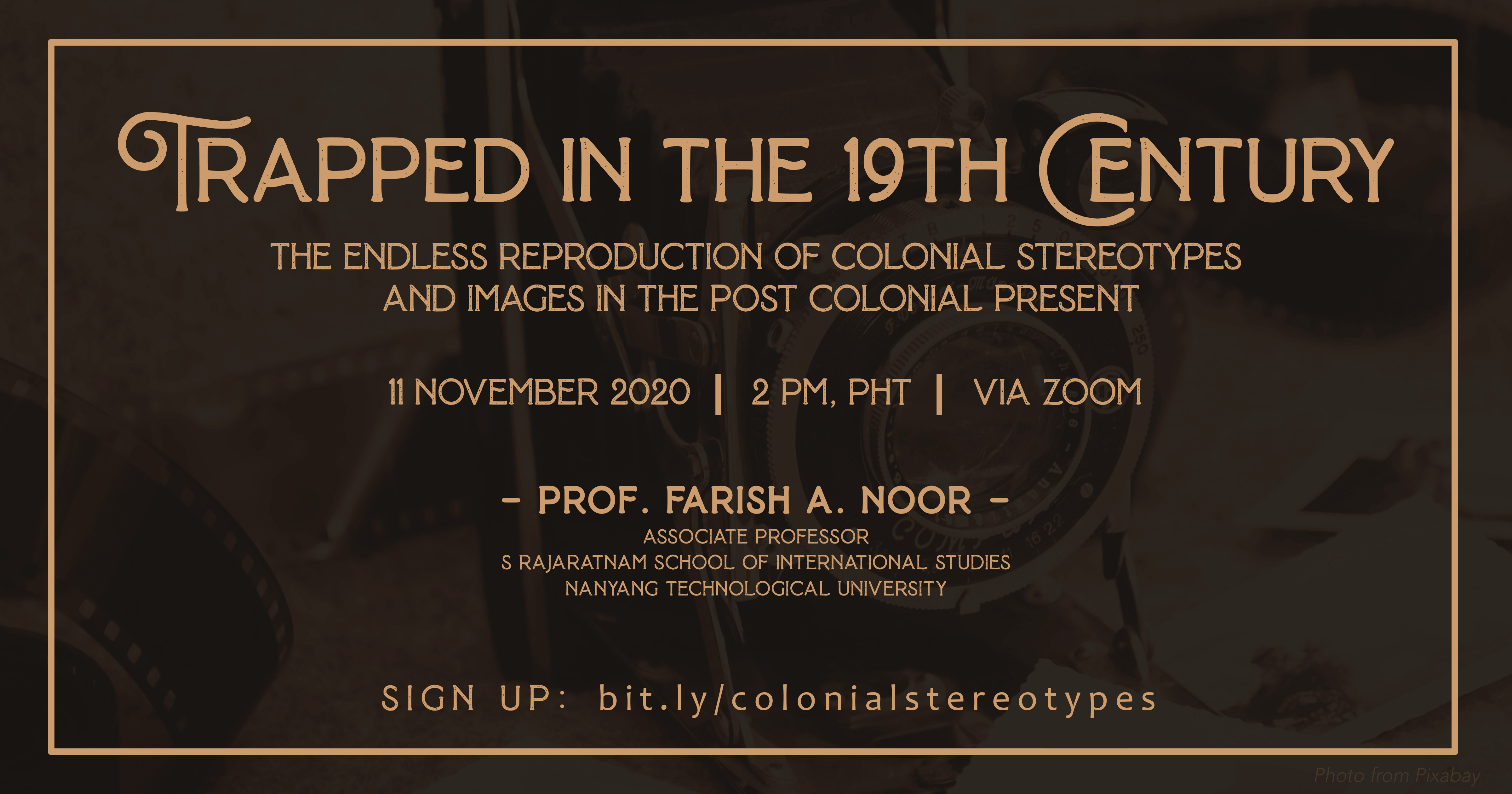 As part of its 65th anniversary celebration, the UP Asian Center will be hosting a webinar, "Trapped in the 19th Century: The Endless Reproduction of Colonial Stereotypes and Images in the Postcolonial Present" on 11 November 2020, Wednesday, at 2 pm–4 pm (Philippine time) via Zoom. The webinar is free, but participants must register using an authenticated Zoom account.
ABSTRACT
The 19th century was a time when much of Southeast Asia came under colonial rule. It was also the century that witnessed an enormous amount of data-collecting on the part of the different colonial regimes in the region. During this period, a more sedimented understanding of Southeast Asians emerged, when Western Orientalist scholars were also exposed to theories of Western racial supremacy and innate racial-biological differences between themselves and the societies they ruled over.
This presentation looks at the representation of Southeast Asians before, during, and after the 19th century and argues that understandings of cultural/ethnic differences then was less a case of knowledge-production, but more of a process of endless repetition of the same colonial stereotypes and tropes. It ends by looking at Southeast Asian modes of self-representation/identification today and asks if we—postcolonial Southeast Asians—have really stepped out of the long shadow of the 19th century.
THE SPEAKER
Dr Farish A Noor is Associate Professor at the S Rajaratnam School of International Studies, Nanyang Technological University NTU, Singapore. His research interests include political history of Southeast Asia and religio-political movements in the region. He is a member of the United Nations Panel of Experts on Religion and Politics.
Among his recent publications are America's Encounters With Southeast Asia 1800-1900: Before The Pivot (Amsterdam University Press, 2018), The Discursive Construction of Southeast Asia in 19th Century Colonial-Capitalist Discourse (Amsterdam University Press, 2016) and The Tablighi Jama'at in Southeast Asia (Amsterdam University Press, 2014). View full profile.
WEBINAR GUIDELINES
Registration
When registering for the webinar, use the same email address that you use for your Zoom account. If you do not have a Zoom account, sign up here.

If your registration is successful, you will receive a confirmation email containing the link to join the webinar. Please do not share your registration link.

Attendance is

first-come, first-served. The webinar can only accommodate 500. A live stream will be generated only if attendance exceeds 500. In this case,

a

link to the livestream will be posted on this page.

E

mail reminders will be sent one day and one hour before the start of the webinar.
Webinar Proper
Questions may be

typed via

the Q&A panel.

You may choose to remain anonymous.

The moderator and/or the main speaker will choose

, read aloud, and

answer

the questions

. Please note that time constraints may now allow us to answer all queries.

The host(s) reserves the right to remove participants who send rude, inappropriate questions or messages.
ASIAN CENTER @ 65

INQUIRIES
Please email
This email address is being protected from spambots. You need JavaScript enabled to view it.

for inquiries.
---
The UP Asian Center offers M.A. degrees in Asian Studies with four fields of specialization: Northeast Asia, Southeast Asia, South Asia, and West Asia. The Center also has an M.A. program in Philippine Studies that allows students to major in Philippine society and culture, Philippine foreign relations, or Philippine development studies. The Center offers a Ph.D. program in Philippine Studies in conjunction with the College of Arts and Letters and the College of Social Sciences and Philosophy. For an overview of these graduate programs, click here. The Asian Center also publishes Asian Studies: Journal of Critical Perspectives on Asia, the latest issue of which can be downloaded at the journal's website. For other news and upcoming events at the Asian Center, click here.